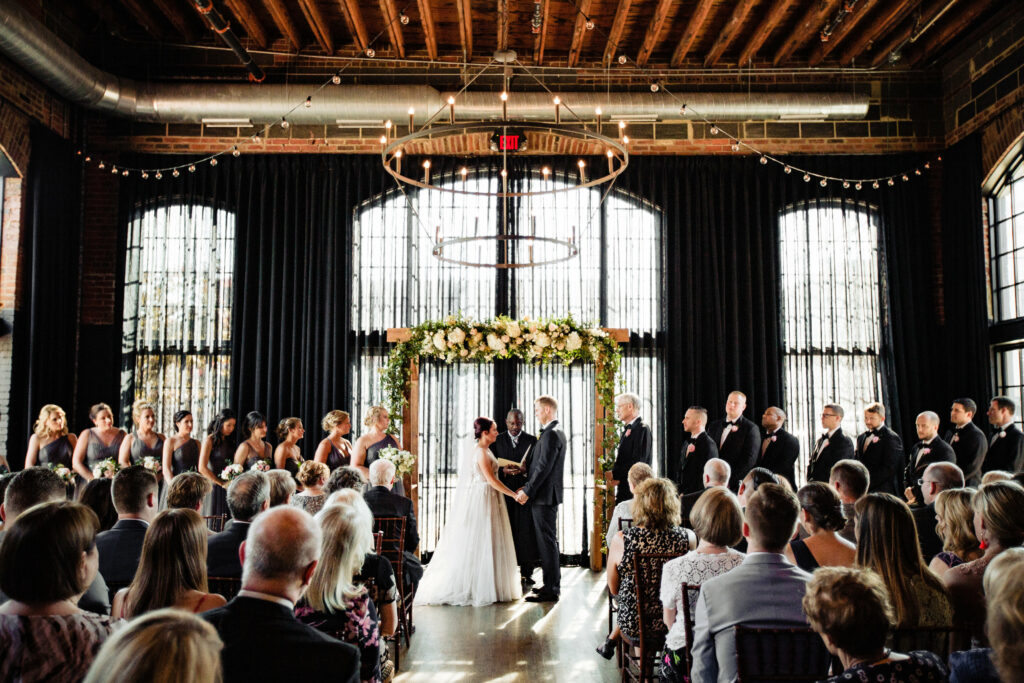 "Why book your wedding at the High Line Car House?"
There are TONS of reasons to choose High Line Car House for your wedding. The venue is filled with historic charm, has huge windows that pour in natural light, and a gorgeous industrial aesthetic that will make the perfect backdrop for your big day. Need a few more reasons?
We've already written up a blog post that highlights some of our favorite fun facts about High Line Car House… but to list a few other reasons…
"Do you offer wedding packages at High Line Car House?"
We get that question every now and then – we do not, and for good reason. You are a unique person with unique tastes. Packages may be a good option for watching your budget… as long as you want exactly what the standard package has to offer! Once you start adding on extras, well, your budget-friendly option may quickly become the opposite of budget-friendly.
That's why we don't offer packages. Because, from the beginning of your journey with us to the very end, we are transparent about our pricing. If you want the basics and a helping hand, if you want to DIY your day, or if you want someone to do it all for you, we're flexible to you. You'll also receive a breakdown of everything that goes into your event before you sign your contract.
And if the reason you like packages is because you have a hard time choosing what you want, then it's a good thing we have a talented team of experts who are here to help you plan your lovingly bespoke wedding! From our Event Designers who will walk you through the final designs of your day, to our culinary team perfecting your specially curated menu, they're with you every step of the way.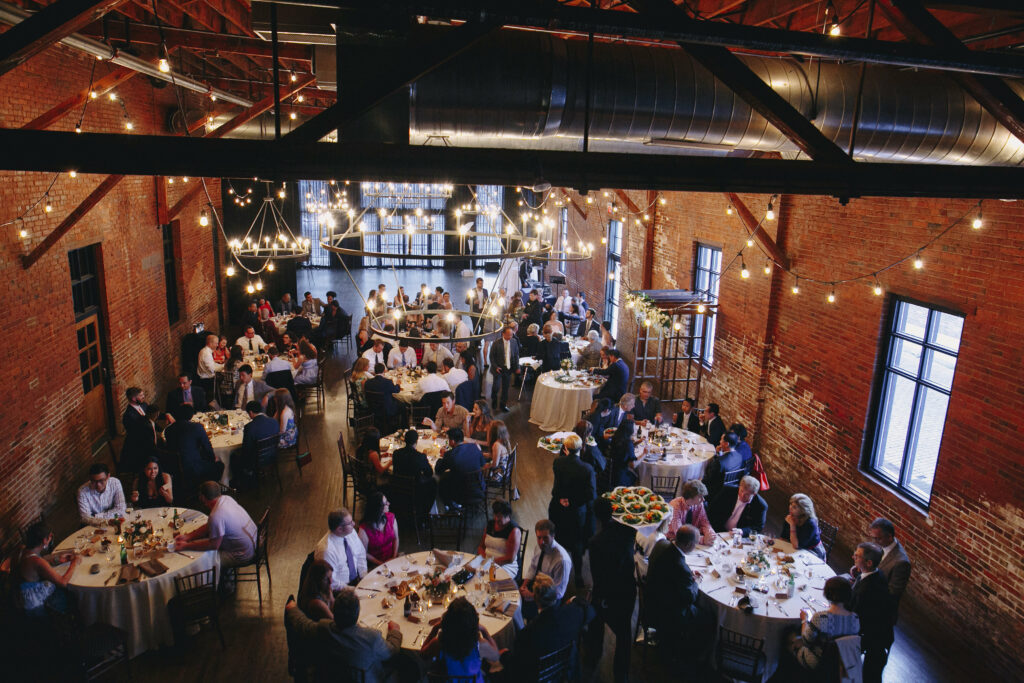 In addition, with your rental at High Line, you can expect:
Beautiful house Butterfly Woodback Chameleon Chairs
Use of our gorgeous wood, custom-made bars and bar backs
Cocktail tables, 6″ Round tables, and Rectangular tables
China, Flatware, and Glassware
Access to a private Lounge room 2 hours before your event starts (Great for hiding before the ceremony, storing your personal belongings, and having a private moment away from the buzz of the event!)
A large, floor-length mirror in the space (It makes a great backdrop for your dessert table!)
An Event Manager on the day of your event to make sure your event runs on time and that all the details are executed to perfection
Want to know more about rental information at High Line Car House? See our rental page.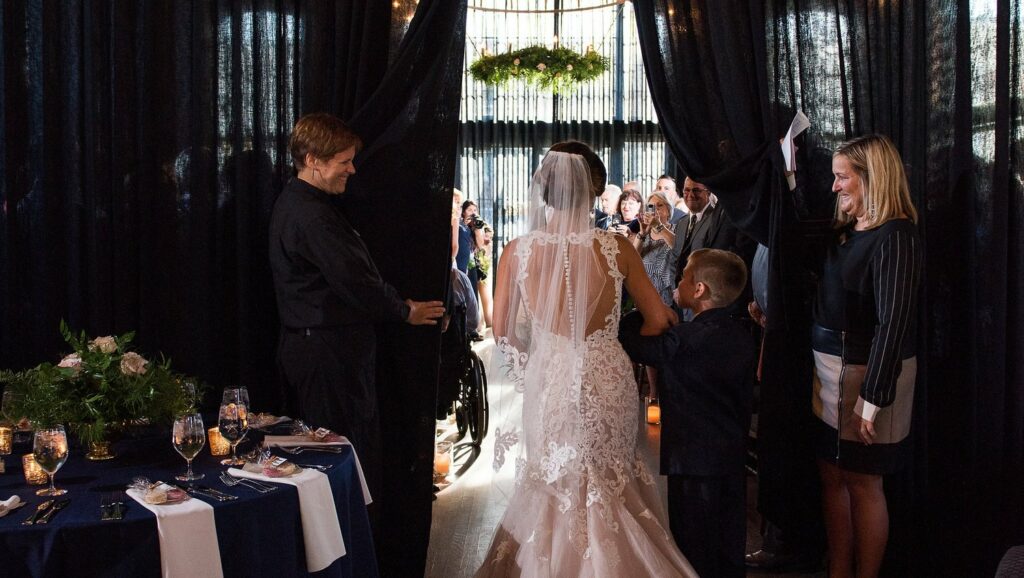 "Why should you work with High Line Car House?"
Your values should match the values of the companies you work with while planning your wedding. And we love working with couples whose values align with our company values. We care about where we source our food, our packaging, and our rentals. We compost our food, recycle every chance we get, and are happy to work with you on hosting a sustainable wedding!
In addition, we have a list of industry experts that we work with for nearly every event and we are so thrilled to share the list with you. They know our space just as well as they know their "stuff", and whoever you choose from the list will make a fantastic addition to your most memorable day.
Note: You don't have to use our preferred list for your vendors. If you have a different vendor in mind, let us know – we're always happy to work with new teams!
"Who is the caterer at High Line Car House?"
Together & Company has been the exclusive caterer for High Line Car House since we opened in 2013 and has been catering events in central Ohio for 25 years now. That means High Line Car House and Together & Company are the same people who have their hearts, their hands, and their minds dedicated to your event. We are a team of experts in our field that will curate a menu that reflects your personal style and tastes. And once we've chosen the perfect menu together, you will be able to attend a culinary preview to taste what our chefs have to offer!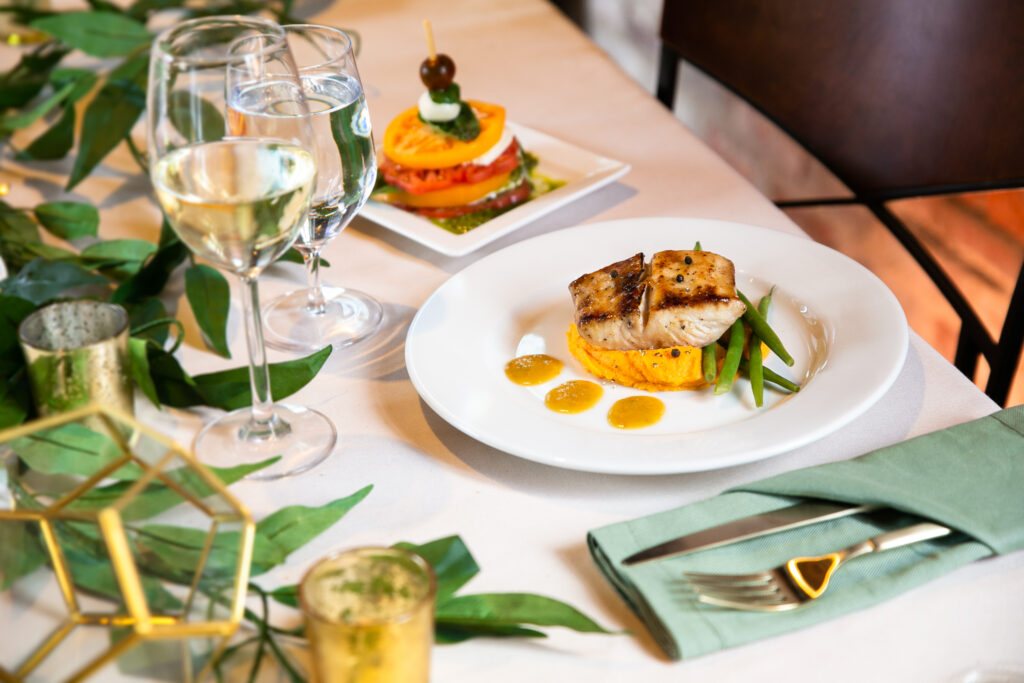 Our process is simple: we get to know you and understand the things and tastes that are special to you, and then we'll create a menu that you and your guests will be raving about. At least, that's what our reviews say about us anyway:
"High Line Car House was the perfect venue for our wedding. All the people we worked with were incredible and highly professional. On the day of the wedding, the venue was gorgeous. They also allowed our dog to be part of our ceremony and even boxed up some steak for him to take home! On that note, the food and service at the wedding were fantastic! The food was definitely the most complimented aspect of the wedding and they were able to accommodate several guests with dietary restrictions. We would highly recommend High Line Car House as a venue and Together and Company as a caterer."

– Doug on Google Reviews
To start getting inspired… and hungry… Check out T&Co's menu!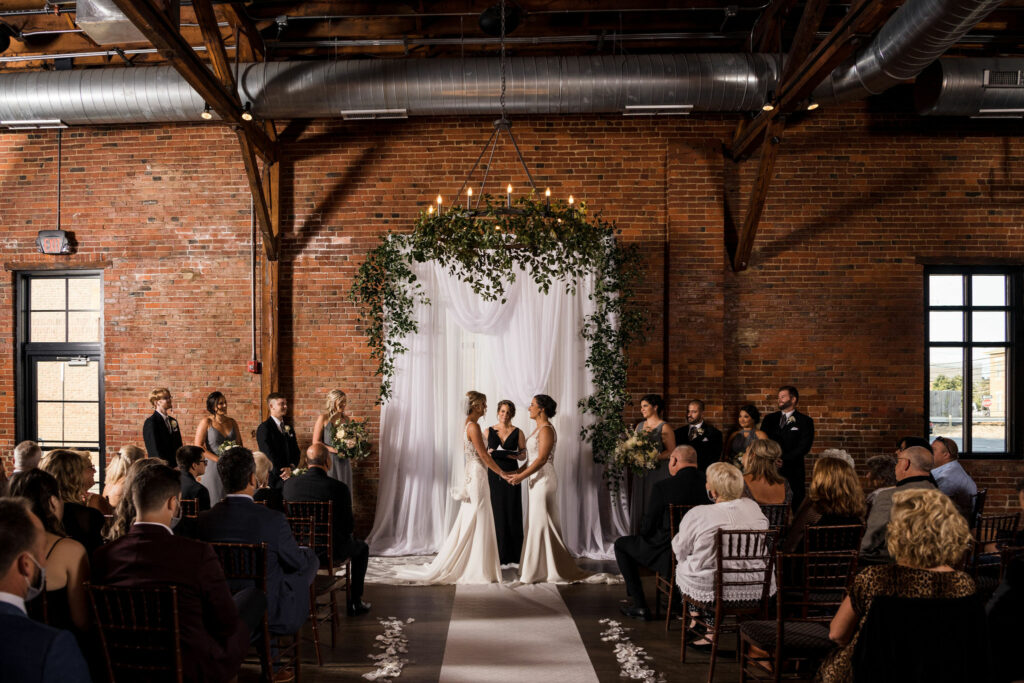 Like we said, there's tons of reasons to choose High Line Car House for your wedding and events. And we can guarantee that, when you do choose us, we'll put our whole hearts into making your day the most memorable it can be.