You're probably not ready yet to start hearing Mariah Carey's All I Want For Christmas blasting at every retail store and restaurant… but you should definitely start planning your Holiday party! 2022 dates are booking fast for many venues and vendors, including our exclusive venue, the High Line Car House. Here's 5 reasons you should book your holiday party at High Line Car House TODAY!
1. It's a great location.
We are conveniently located at 550 S High Street in the Brewery District, which is 5 minutes from downtown and right off a highway exit. It's easy to get to from wherever your guests are coming from.
We have ample metered street parking next to the venue, and are located two blocks from a parking garage. We've even made a video for you to send to your guests so they know EXACTLY where they can park when they arrive for your event.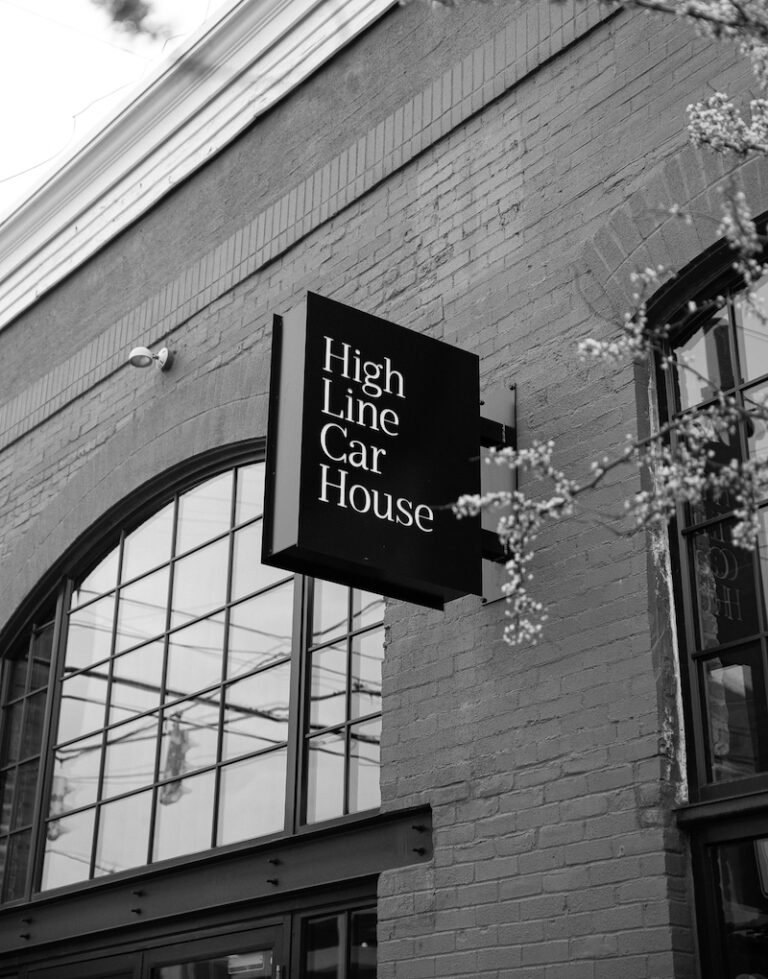 2. Celebrate in a historical building.
For our corporate friends… simply put, it's NOT your office! Treat your team to a historic Columbus venue with a whole lot of industrial charm that has been a staple in the community since 1883. You can read up about the history of High Line Car House on our previous blog post.

Photo of wedding party by Derk's Works
3. Decorate how you want.
One of the great things about High Line Car House is that it is a gorgeous space with minimal decoration required, but also can act as the perfect blank space for whatever vision you have for your event. And thanks to the warm exposed brick, dark wood floors, and moody lighting, winter-themed décor looks particularly amazing in our space.
PROTIP: You will work with our Event Designer on your event. She is a talented individual with an eye for design that can help make your vision come to life, or offer suggestions for rentals, vendors, menus, and more! 
Academia-Inspired:
This layout just gives us all the magical Hogwarts vibes (for all you Harry Potter fans)! Your guests will be able to mingle more closely with these long-style tables and works best for a served dinner. We recommend placing your dance floor or projector for a presentation on one of the far sides of the venue with this layout.
Photo by Shoot2Studios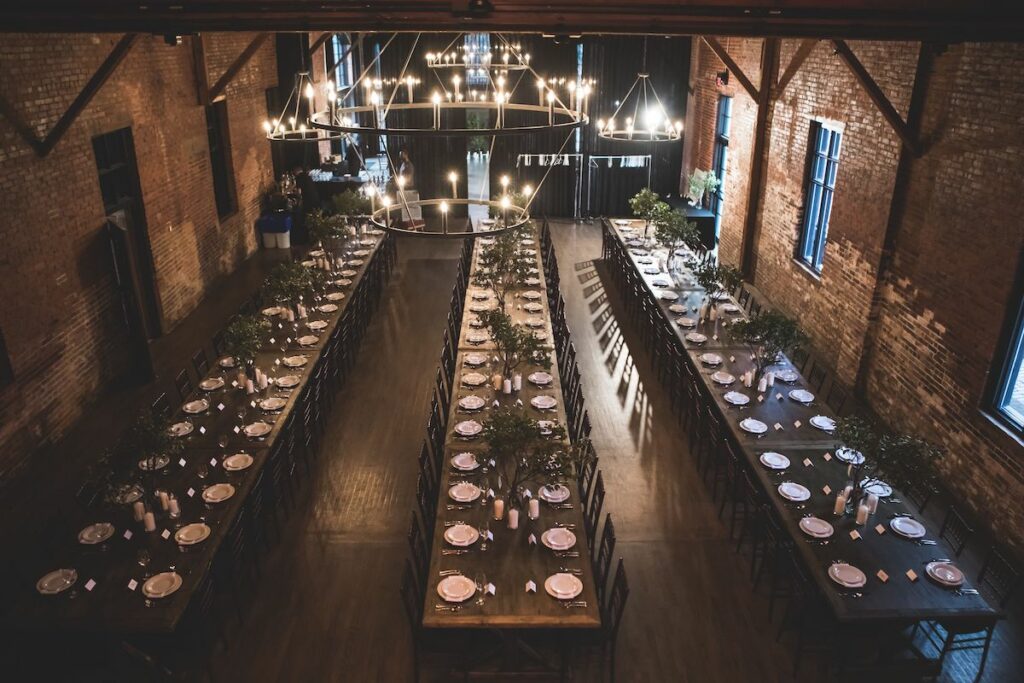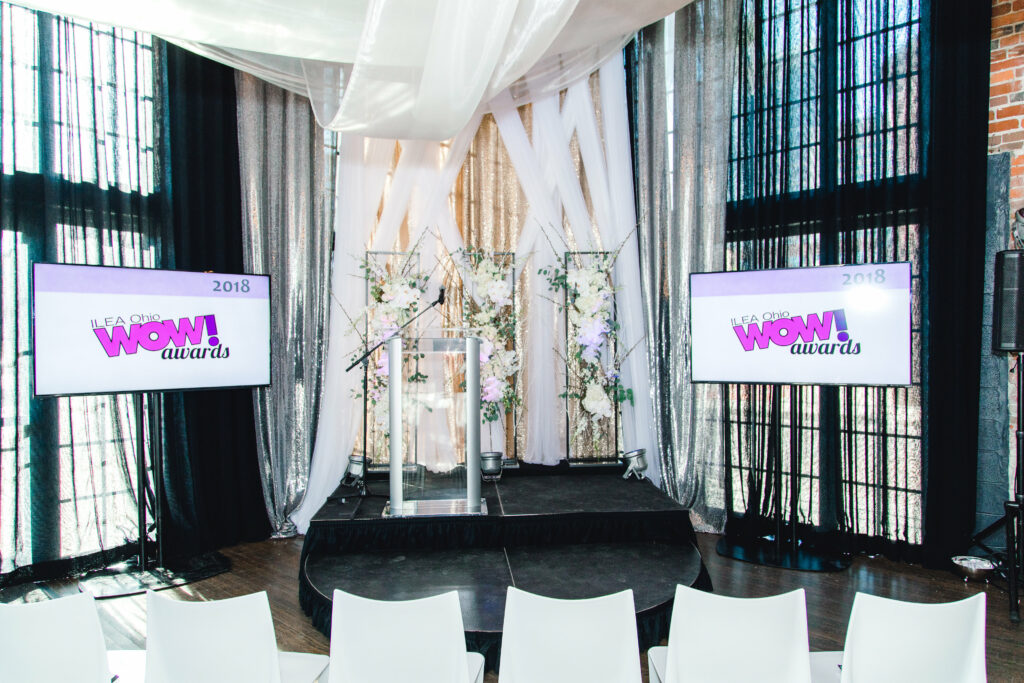 WOW Them with Glam:
Skip all the traditional holiday décor and GO GLAM! Utilize creative draping, soft seating sprinkled throughout, and a mixture of table sizes so that your guests can naturally move about the space and mingle with the entire party. With this unique décor, your guests will be talking about this party for years to come! 
Cozy & Traditional:
Create photo backdrops using Christmas trees, or place them around the venue such as up on the balcony overlooking the space. Either way, the greenery looks gorgeous against the exposed brick walls and beneath the warmth of our chandeliers. 
PROTIP: You can rent faux-fireplaces, soft seating, and rugs to create a cozy vignette and space for your guests to relax in comfort.  Let us know what you're thinking, and we can provide vendor and rental recommendations!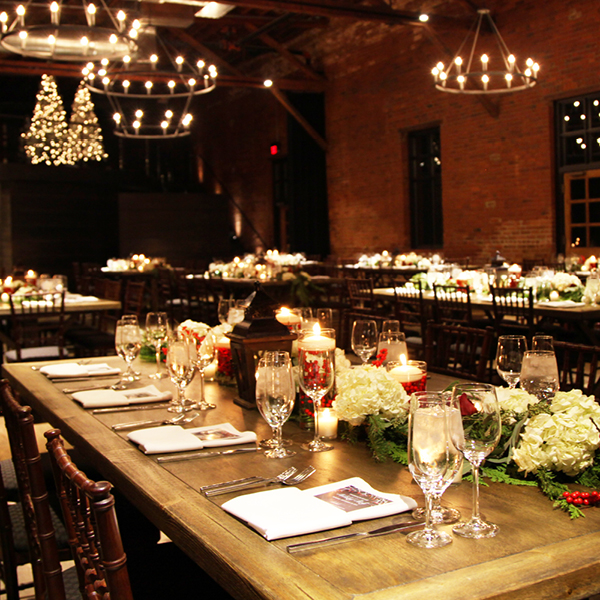 4. You can invite the whole team!
We can fit up to 300 people for a cocktail party and up to 200 people for a seated dinner.
PROTIP: We also have different rental costs depending on the day of the week AND the month. You can learn more about our weekday rentals versus weekend rentals on our website.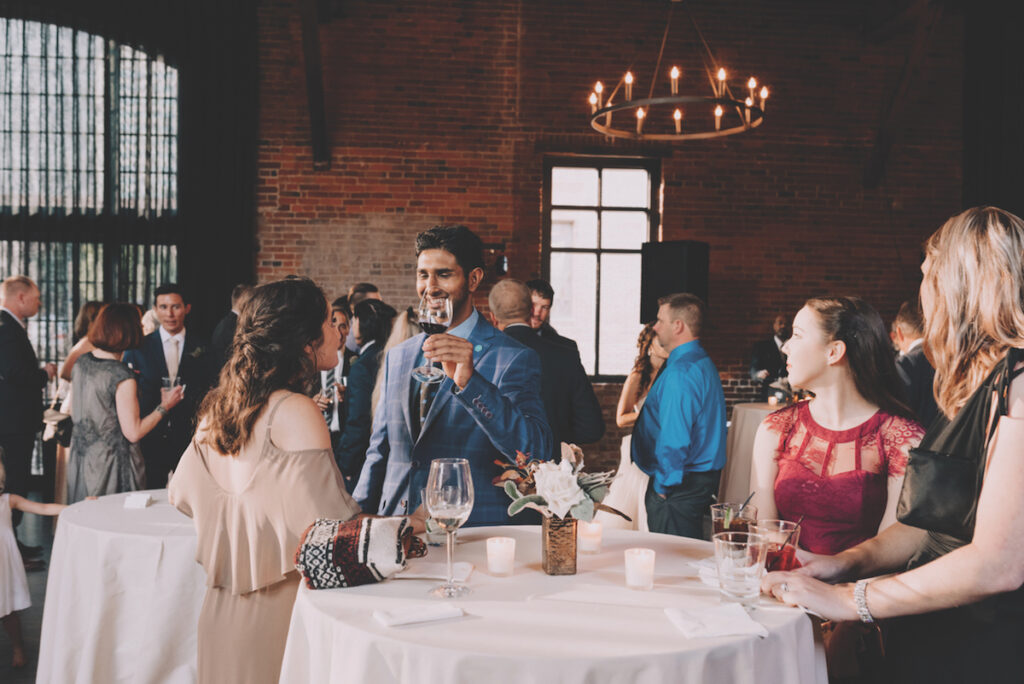 Photo by Emily Schutz Photography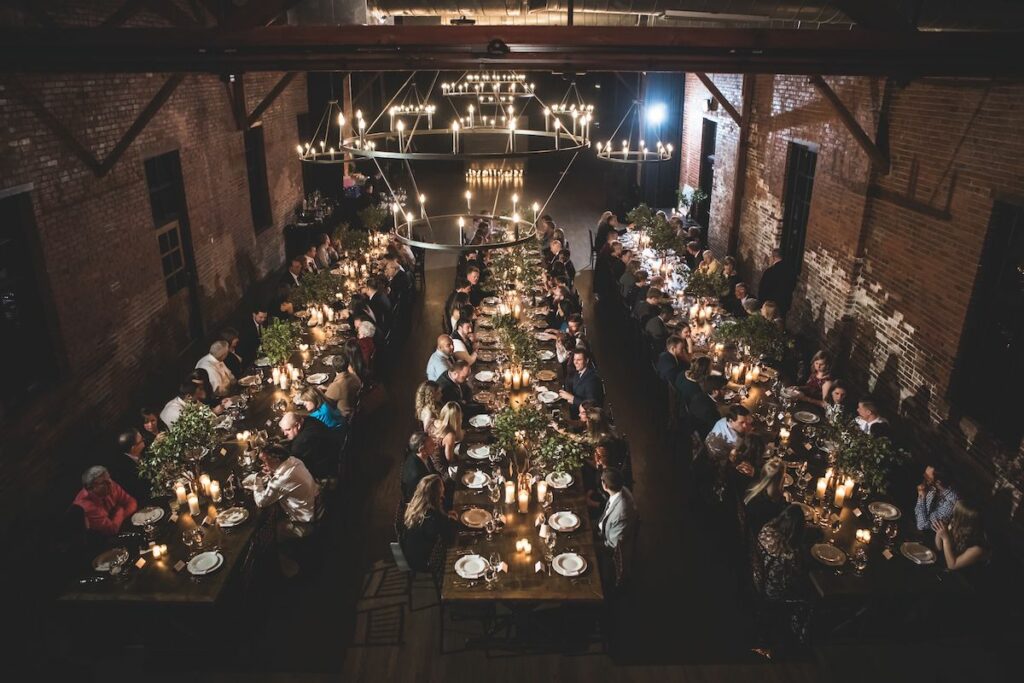 5. High Line Car House has fantastic acoustics. 
Since the acoustics in High Line Car House are fantastic for bands and presentations alike, you and your guests can enjoy it from wherever they are in the venue! A local DJ reviewed our space and had this to say about the space:  
"The acoustics are AMAZING! You can have music on one side of the long, rectangular space and have the sound be equal throughout the entire room. This means that guests near the speakers aren't deaf while people at the other end can't hear the music."
BONUS: Together & Company caters at High Line Car House.
Our onsite caterer has an AMAZING seasonal winter menu, and no matter what time of year it is, you can check out what it has to offer on our website.  Featuring delicious items like Cranberry Mint Brie Phyllo Cup, Duck Fat Potato Silo, Coconut Lentil Chaat, Almond Kohlrabi Stack, and so much more! From sit down dinners to passed heavy hors d'oeuvres, we will craft a menu that suits your needs.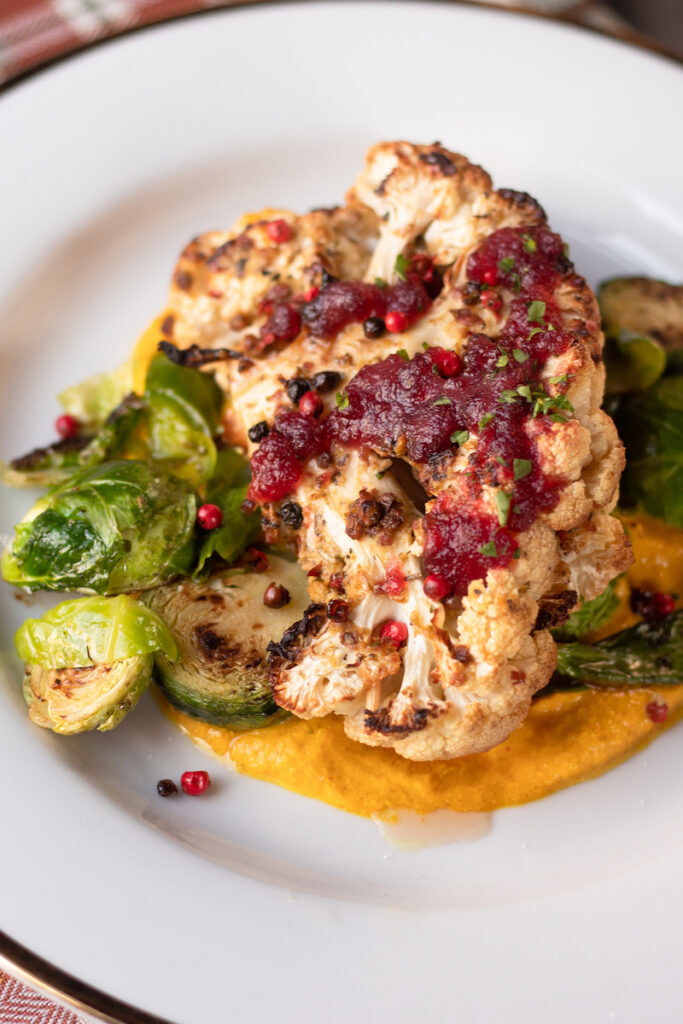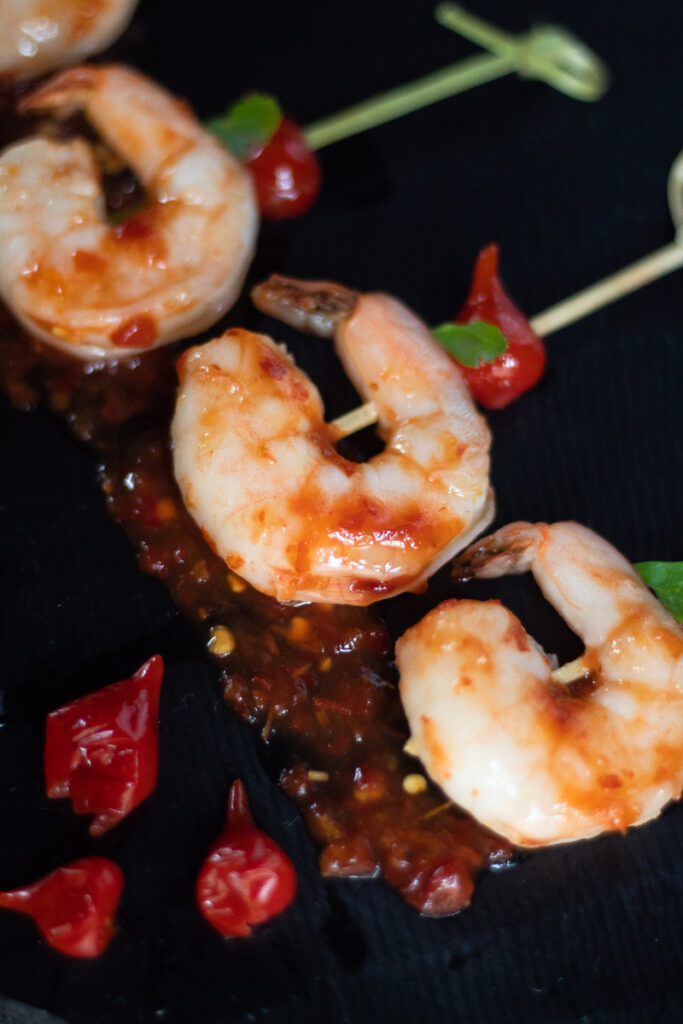 Before you know it, the holidays will be here! 
Are you ready to start planning your holiday party?