Did you know…
Sweet Carrot, a Columbus-based casual catering brand that specializes in comfort food with a unique twist, is our sister company and operates out of the same kitchen as Together & Company. Not only did they just launch their NEW menu, but they're now officially in charge of all drop off and pick up catering orders for both companies! Let's dig into their relationship and why YOU should order Sweet Carrot catering for your next office lunch, casual shindig, or birthday party.
The History of Sweet Carrot
Sweet Carrot started as a food truck almost 10 years ago and was the fun & casual catering option at weddings & events for Together & Company. In 2022 the food truck is gone, and now Sweet Carrot cooks up the best of the best in unique, BBQ-inspired comfort food in the same kitchen as Together & Company.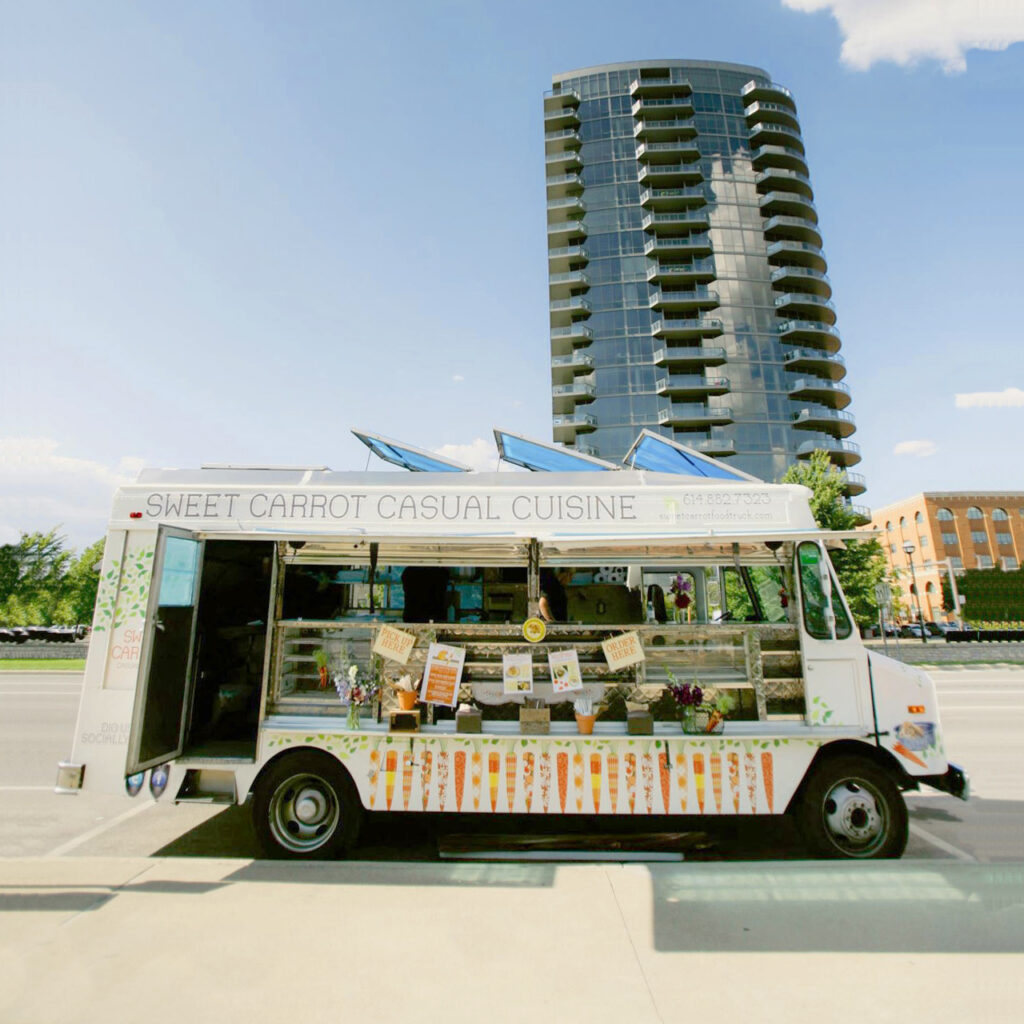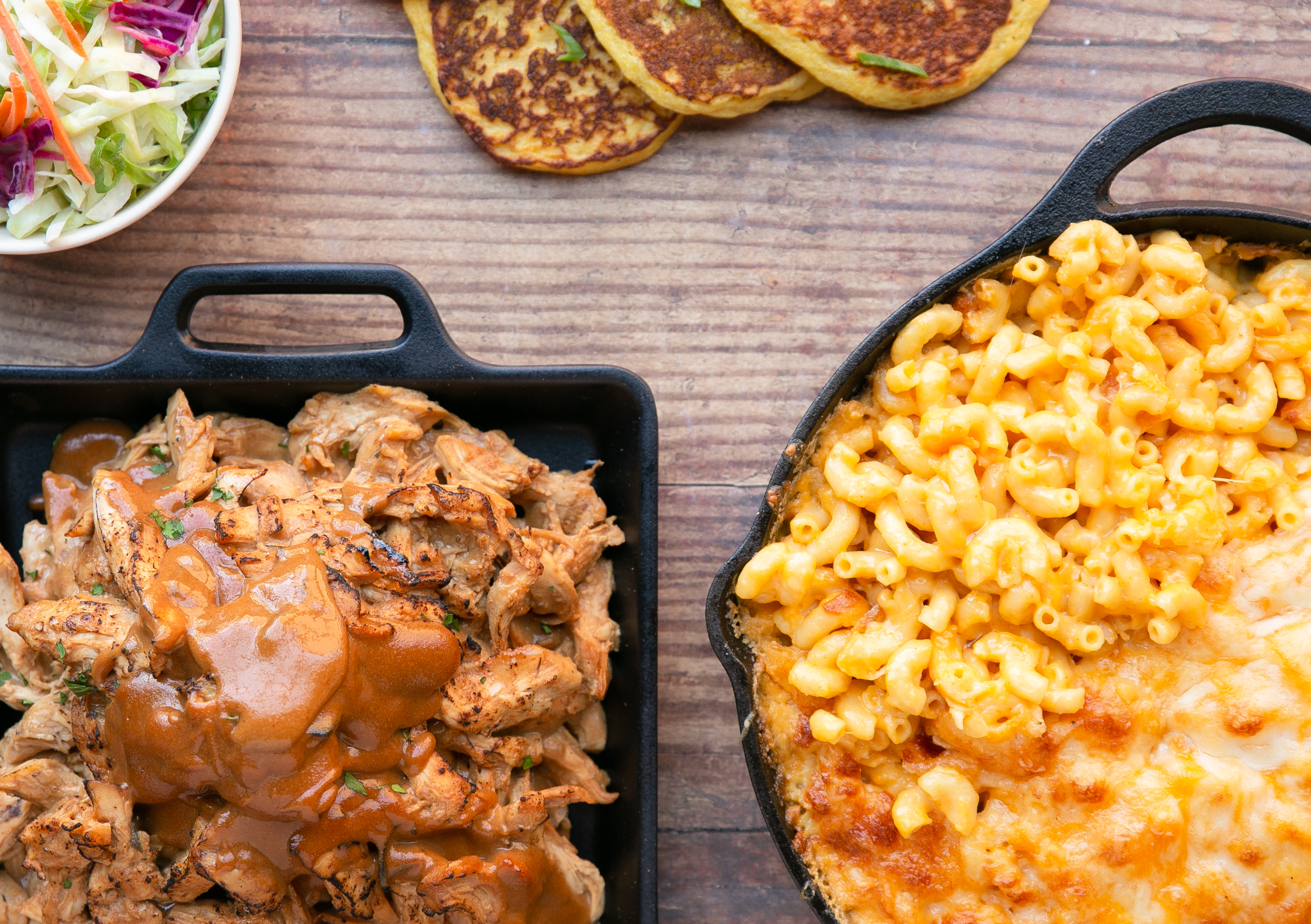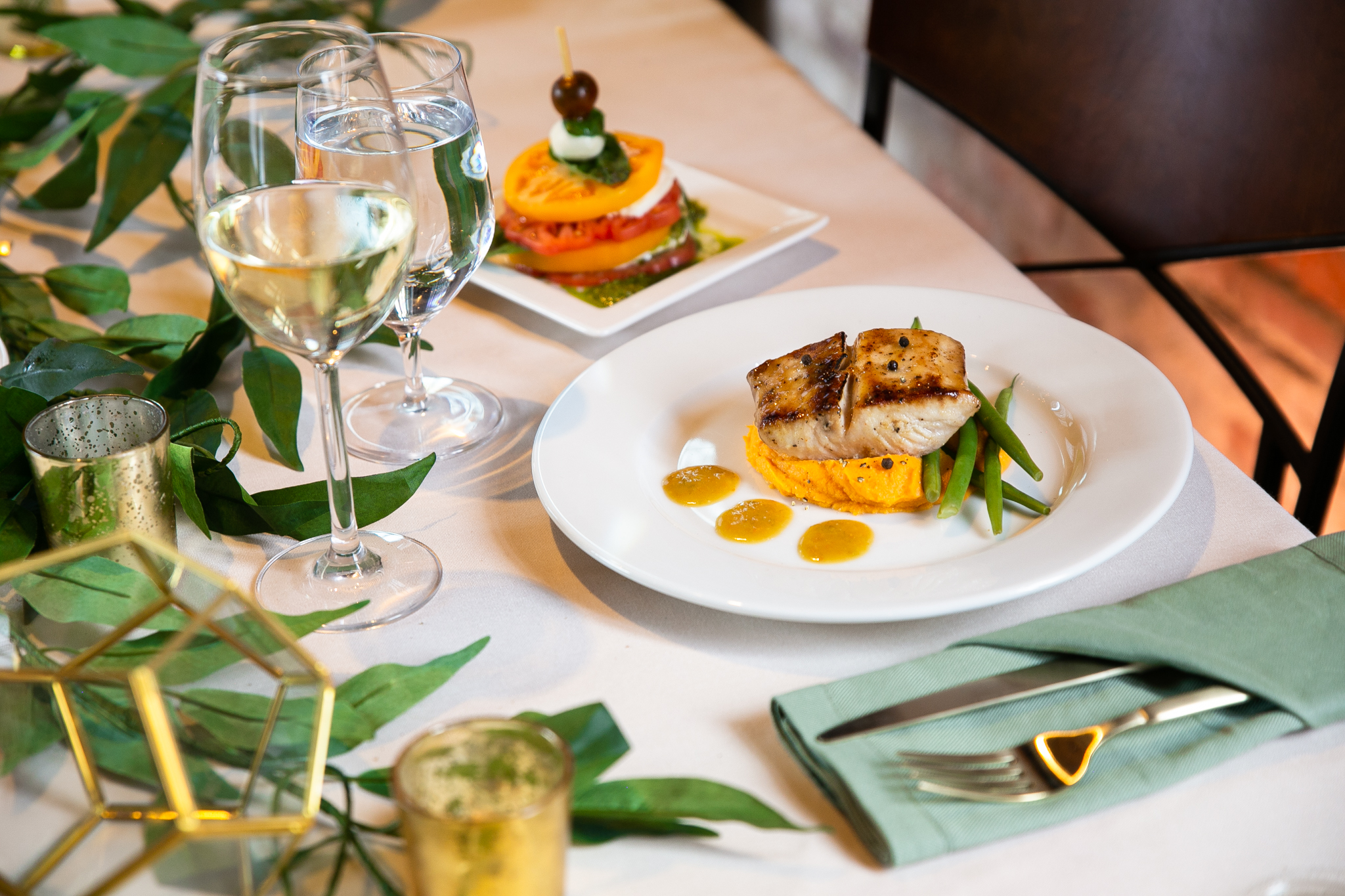 Evolving our brands together
Sweet Carrot now manages all drop off and pick up orders for both companies. That means those casual shindigs – your office lunches, corporate happy hours, birthday & graduation parties, and more – are a great match for Sweet Carrot. And for those full service, extravagant galas and weddings, Together & Company's 25 years of expertise will deliver you a phenomenal event! 
What are drop off and pick up orders? It's exactly as it sounds – all catering orders that are dropped off and not staffed are "drop offs", and all catering orders that are picked up by the client from High Line Car House (the location of our kitchen!) are "pick ups". Switching all of our drop off and pick up orders to Sweet Carrot has allowed our team to streamline processes, refine our menus, and build up a team of dedicated employees, all to be the absolute best at what we do. And your events will shine because of it. 
Menus made by Sweet Carrot
You may be wondering… what's the difference between Together & Company and Sweet Carrot if they operate out of the same kitchen? It's simple! Sweet Carrot has a smaller menu that specializes in homemade, BBQ-inspired comfort food, while Together & Company has a larger menu with a focus on seasonal options. 
Sweet Carrot's menu also features more classic lunch style items, like hot griddled wraps, sandwiches, salads, build-your-own bowls, and more!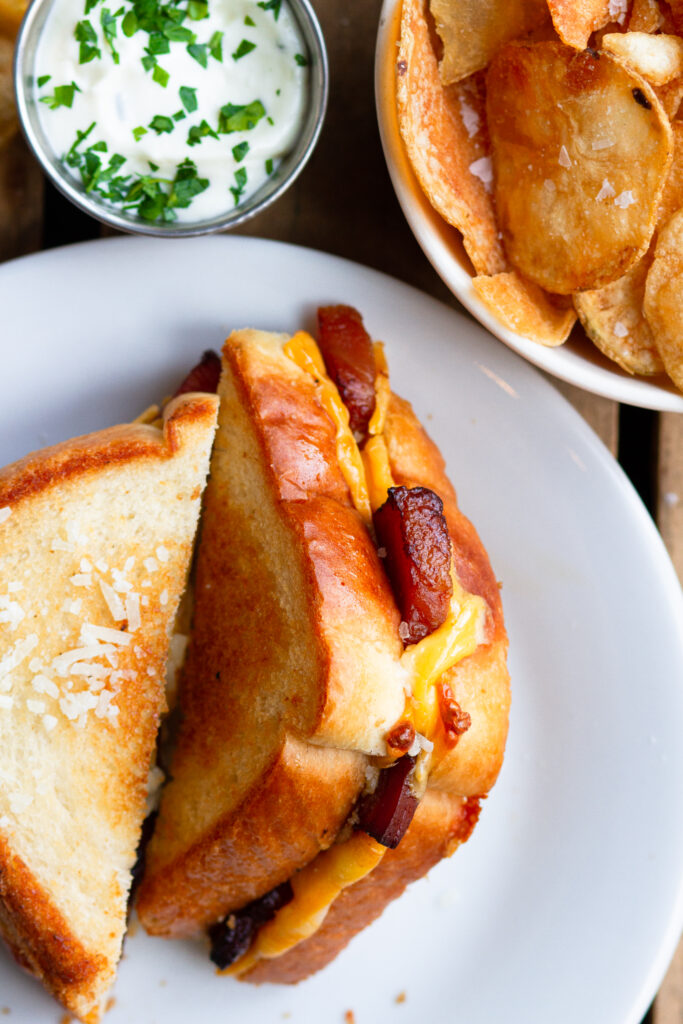 Classic & NEW Sweet Carrot Dishes
Sweet Carrot launched a new menu in August 2022 and there are a TON of delicious options. From classic Sweet Carrot favorites, like Corn Cakes topped with Ohio Chicken Meatballs and Sesame Ginger Sauce and in-house-smoked pulled brisket and pork, to brand new bowls and sandwiches. There's definitely something for everyone!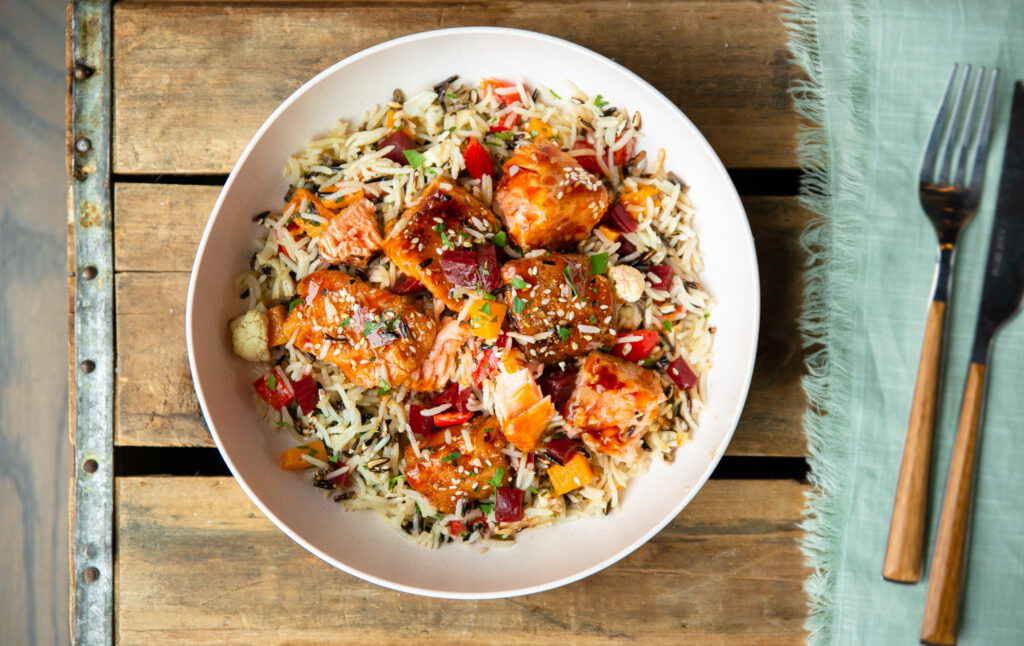 BOWLS, BOXES, & SALADS
There are tons of convenient, individually boxed items available for your  lunches & meetings.
NEW! Puffy Rice & Veggie Bowl: White rice, puffed wild rice, riced cauliflower, roasted butternut squash, tricolor peppers, garlic, ginger, parsley, dressed with lemon herb vinaigrette, topped with pickled beets. This bowl was topped with our new protein, Crispy Sesame Salmon!
UPDATED BARS & PACKAGES
There's a new Sweet Carrot bar package on the block.
NEW! Baked Potato Bar: Includes classic baked potatoes, warm cheese sauce, roasted broccoli, bacon bits, butter, sour cream, potato chips, & french onion dip. Add on one of our seven protein options to really round out the bar!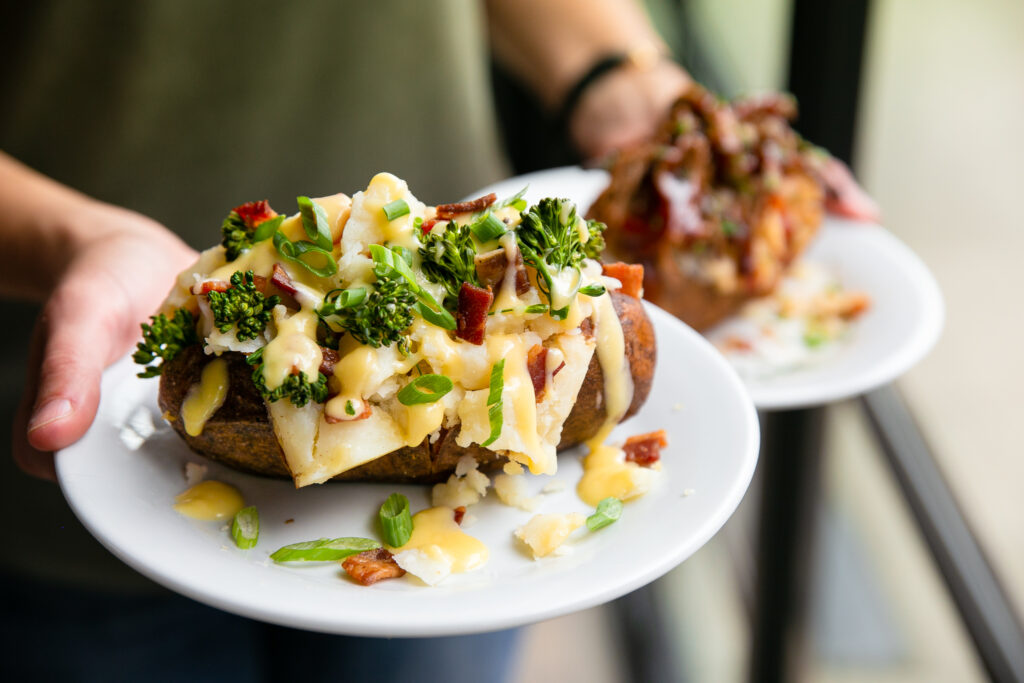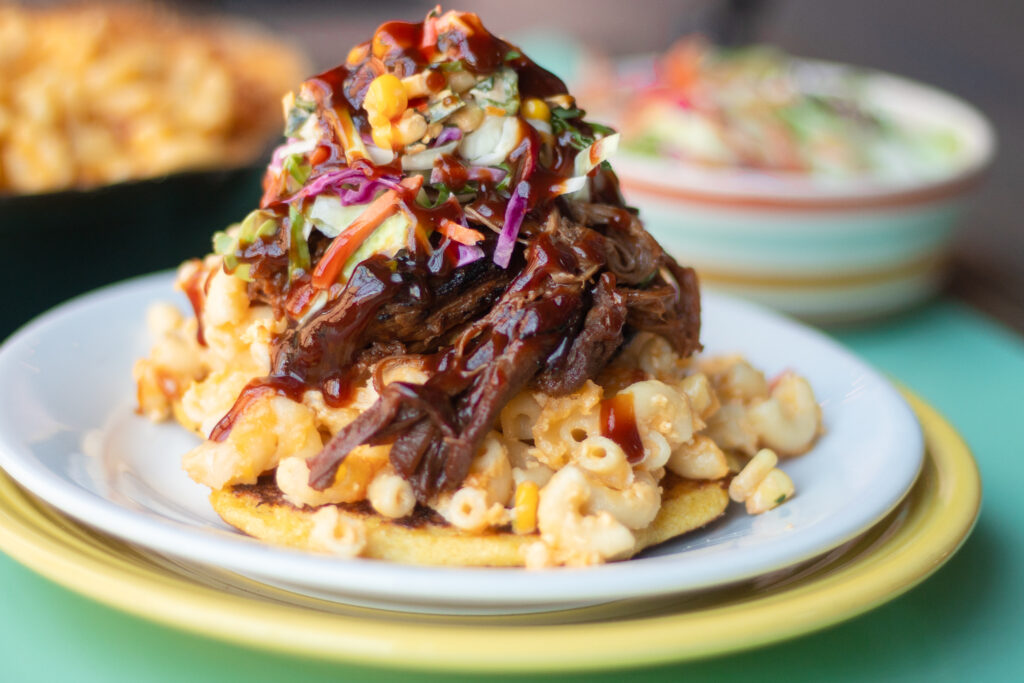 KEEPING IT CLASSIC
A SWEET CARROT ORIGINAL! Corn Cake Bar: corn cakes, cole slaw, BBQ sauce, corn salsa, salsa trio with tortilla chips. 
One big pile of goodness or separated by each yummy ingredient – you can build your corn cake however you'd like it!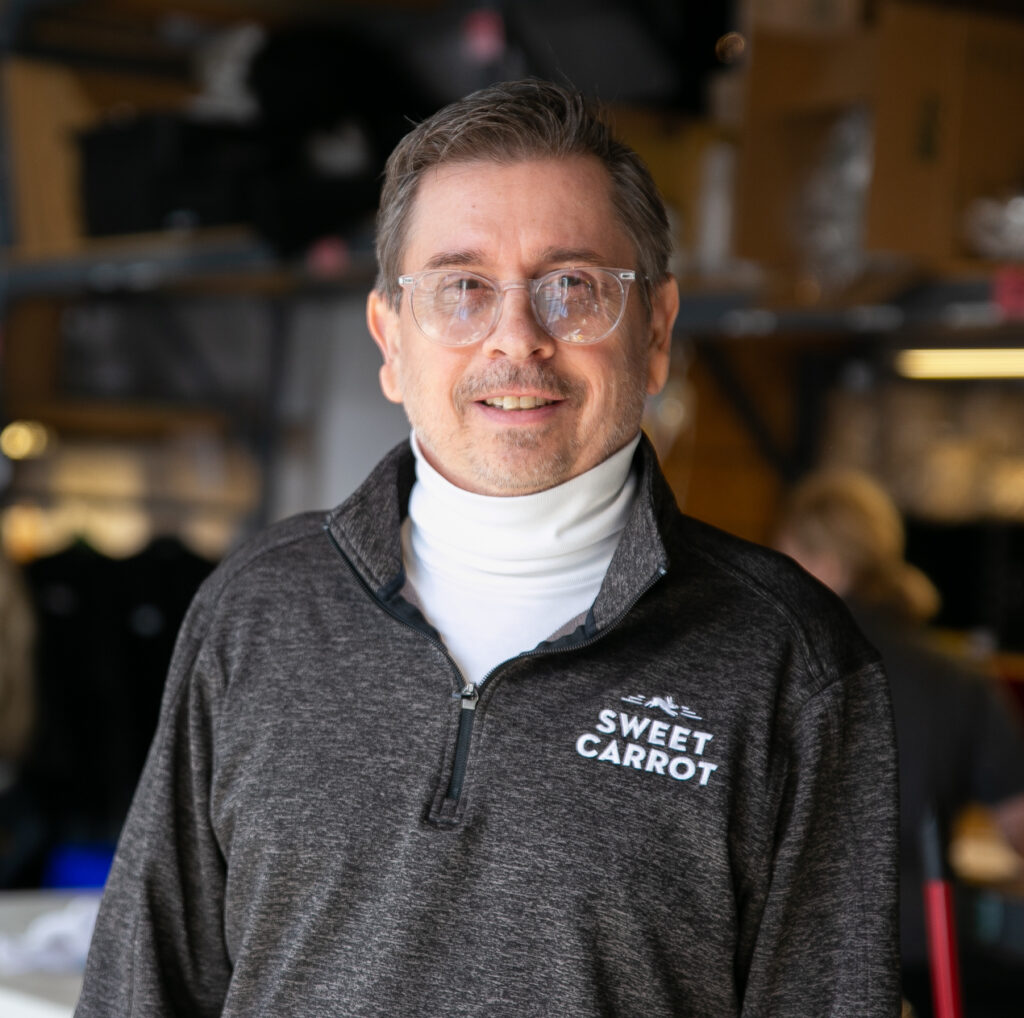 Who will I work with at Sweet Carrot?
The one and only Bobby! Bobby has worked at Sweet Carrot for nearly as long as the company has been around. From General Manager and now to your Catering Sales Partner, he knows the ins and outs of all things Sweet Carrot and will help you plan and pick the perfect menu. 
"They went above and beyond on our wedding day and I could not be more thankful. Bobby is a pro in the wedding industry and thinks of every detail to make your day special. He worked with us to create a package that fit our needs and budget.
There were two specific things that his team did that really stood out to me. First is they came and served me and my husband so that we did not have to waste time going to get our own. You could tell their goal was really to let us sit back and enjoy the day. The other thing was that they met our guests outside the ceremony space with drinks in hand. Our guests loved this!!! Not to mention, the whole staff was incredible kind. They were happy to be there and do whatever they needed to make it the perfect day.
Bobby worked with the other vendors to help keep the flow of the evening and trust me this makes a huge difference!!! Seriously, you will not find a better catering team for your big day." – Emma on Google