Reopening Together with Air Cleaning Technology
This month, Governor DeWine officially announced that special events may resume — including opening up dance floors and entertainment spaces! — but we understand that planning your event during a pandemic can still feel a bit scary.
That's why we're proud to announce that UV-C PHI technology will be installed at The Fives and The High Line Car House this summer!
What's UV-C PHI technology, you ask?
UV-C PHI, or UV-C Photohydroionization is an advanced oxidation technology that is installed into the existing HVAC systems to minimize and neutralize indoor air pollutants such as viruses, bacteria, mold, gases, and odors.
The technology provides an additional layer of protection in improving indoor air quality by sterilizing the air stream that flows through the HVAC system and continuously sanitizes surfaces and air, providing proactive protection against COVID-19.
Let's break that down a little more…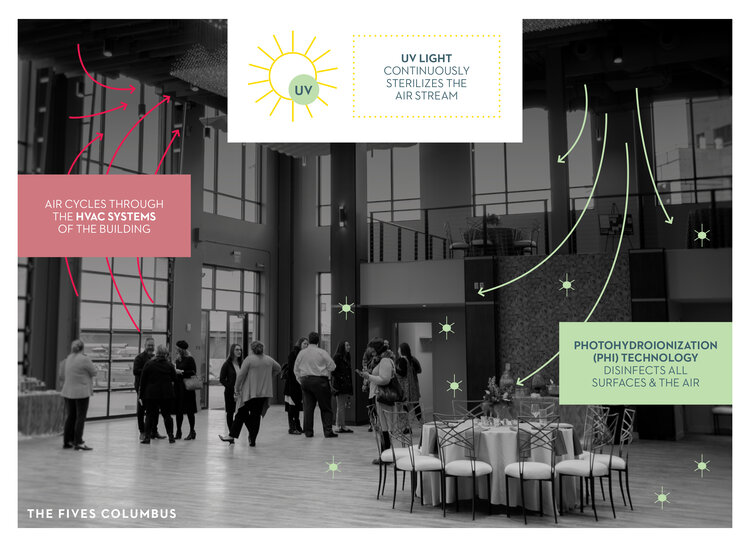 UV light sterilizes the air stream that flows through the HVAC system in a continuous cycle.
Photohydroionization (PHI) technology disinfects all surfaces & the air.

This includes kitchen prep tables, bar tops, guest tables, chairs, plates, silverware, and more…
So what exactly does UV-C PHI technology do?
Disinfects and sterilizes the air in the building.
Continuously sanitizes surfaces and air.
Eliminates viruses, fungi, bacteria, germs, and pathogens.
Provides an additional layer of protection in improving indoor air quality.
UV-C PHI technology has been around for 20 years and has been independently tested by the US military, USDA, US government, and the Electric Power Research Institute, among others.
Installing this technology into our venues is our way to take an extra measure of care when we reopen for events.
We will continue to follow all CDC and local health department guidelines. All Together & Company employees are required to wear masks, complete a health check before every shift, frequently wash hands, clean and disinfect frequently touched surfaces, and maintain six feet or more of distance from customers.
We're here to help you plan a memorable event
& bring your guests together in the safest way possible.
If you have any questions or would like to schedule an event,
please call our team at 614-882-7323 or contact us.
Want to learn more?