Together & Company cares about values.
We live, breathe and work by them.
To prepare for the opening of our new venue, The Fives, we hosted All Team Training Day in the all-new space. New and veteran team members came together for a fun, day-long learning retreat.
The Fives is unlike any other venue in Columbus. It offers a flexible event space, unparalleled views of the city skyline and ample green space. Through values-driven training, the team learned exactly how to work together to deliver wholehearted hospitality at every event.
Do what it takes.
We go above and beyond, even if it's "not our job." Each member of the team learned everything about delivering impeccable service. From how to pour the perfect cocktail to seamlessly serving a meal, we reviewed every detail that makes the guest experience exemplary.
Love what you do.
To us, "loving what we do" is about loving who we do it with, and training day was full of bonding and building relationships. We randomly split our team into groups to tour the space and visit training stations. Our new team members met and mingled with one another, supporting each other while engaging in interactive learning experiences.
Have fun doing it.
As we were soaking in the learning, we laughed, celebrated and smiled. Team members were engaged at every station, working to have the most stickers so they could win prizes at the end of the day! The post-training wrap-up was essentially a team pep-rally — with cheering, celebration and hugs before everyone went home.
Leave it better than you found it.
During training day, we broke for lunch (Thanks Sweet Carrot!) and an All-Company Meeting that focused on this one value. Sure, we promise to leave everything we touch better than we found it. But to our CEO Angela Petro, this value means that we create opportunity for people, do our part to build each other up, and help our teammates grow. Together & Company focuses on this value as not only environmental betterment, but personal development too.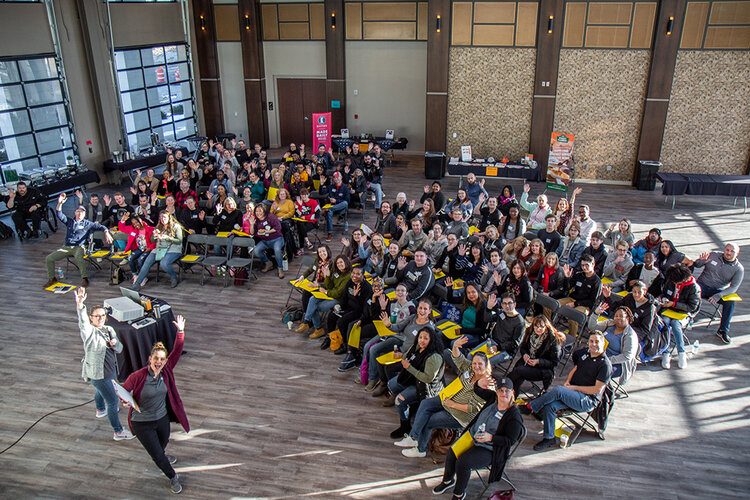 All for one, one for all.
Together, it is not possible to fail. The entire day was a success, and thanks to a collaborative effort from all teams — Together & Company, Sweet Carrot and Kittie's Cakes — we successfully trained over 100 employees in 8 hours!
Gallery