New & Improved & Full of Flavor
This week, we're releasing our new & improved drop-off menu with a variety of items your guests will love. Below, our catering experts share what they think you should order first!
Couscous Bowl
By: Carly Ziemer, Director of Sales
"As a department head, I know all about having an overwhelming number of meetings on my calendar each week. Often times they are unenjoyable but, other than those that really should have been an email, meetings are important.
If we approach the food at these routine business meetings as an opportunity to delight those in attendance, then we might be able to lift the energy in the room, improve our efficiency, and create a much more productive atmosphere.
That is why I love the 'Build Your Own Couscous Bowl' on our new casual catering menu. It's a pleasant surprise for those showing up to a meeting that they can build their own lunch from a variety of colorful, healthy, and fresh ingredients. The process of building a lunch is engaging and energizing, which can help turn a sedentary meeting into something much more active.
Mediterranean flavors are popular right now, and the mint chimichurri on this dish is an inventive addition that I love. It's light, refreshing, and flavorful but not overpowering. Sometimes, Mediterranean combinations can have such a strong flavor profile, but our culinary team found a great balance in this dish, creating something for all palates. The refreshing taste of the mint paired with the crisp peas and tart sun-dried tomatoes is the perfect combination. It's a surprising, out-of-the-box menu option not seen often, and the 'Build Your Own' format allows guests to create something they'll love."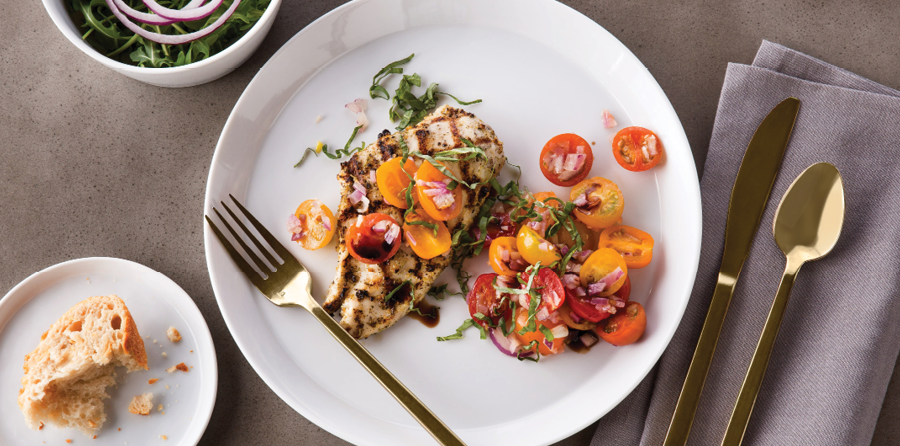 Bruschetta Chicken
By: Jonathon Cullison, Casual Catering Specialist
"Planning a meal for a large group of guests is difficult. There are a lot of people to please, and to accomplish this one must plan something that is accessible and fresh at the same time. In addition to this, the various dietary needs of guests must be met also.
One of our client-favorite entrees is our bruschetta chicken, because it's something light and still full of flavor. Also, people know and love bruschetta chicken – it's fresh – but you don't often see it catered. In the past, this meal was only prepared breaded, which added difficulty for our clients considering their gluten-free guests.
On our new menu, bruschetta chicken is now offered either grilled or breaded! (As well as many of our other entrees.) Our Italian-seasoned chicken breast, with or without breading, comes topped with a tomato relish and a balsamic drizzle. I always ensure I help my clients think through these dietary details and this helps cover the bases: A delicious, healthy meat option that's full of flavor and beautifully presented – now gluten-free!"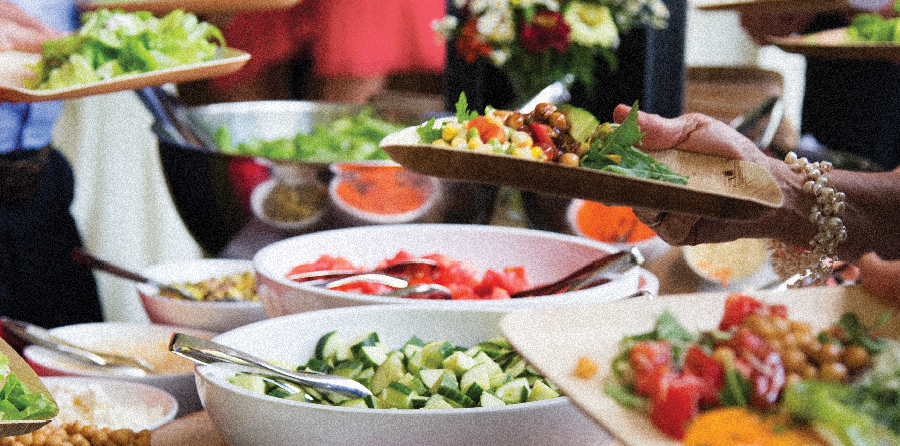 Build Your Own Bars
By: James Sanderson, Culinary Analyst
"With the release of our new casual menu, we are offering a variety of 'Build Your Own Bars'. Some of our bars have been staples of the menu for years, while others were only offered for a few months to test. Either way, all of them have been hits.
These bars offer the customer a variety of cuisines to choose from and they also accommodate most dietary restrictions. We have something for everyone! These bars also take the guesswork out of ordering. You won't have to order a special meal on the side for your vegan and gluten-free guests. They get to enjoy the same food experience as everyone else.
For example, maybe you are a fan of the components of a pita pocket, like falafel, but can't make yourself a sandwich for lunch. Maybe you want something that can be gluten-free. With our 'Pita Pocket and Salad Bar', for example, you can create a salad for lunch with some of our chickpea-flour (gluten-free!) falafel on the side. These menus are versatile, and they allow you to be creative for your guests. You will never get tired of them!"