This is a very special wedding feature for Team TC, because the bride and groom are members of our family.
Bri, our Special Events Team Manager, recruited (her then-fiance) Kurt to work a shift or two during busy season. Like many TC team members, he loved it and became one of our regulars in the catering back-of-house. We can't claim that we helped them find each other — they go WAY back — but at least we helped in making their big day extra special. The whole TC family came together to create a fabulous event, and we were there at the celebration to toast their happiness.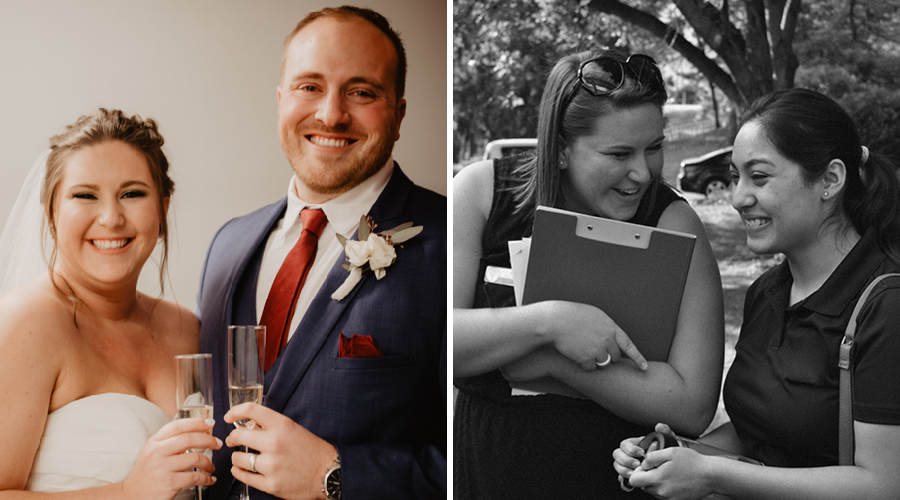 By: Bri Barnhart, special events Team Manager
Describe your experience as a Together & Company bride & groom.
We planned a nice long engagement so the wedding planning could be an enjoyable experience for both of us. Together & Company helped so much with that. They are so professional and helped us with every detail. They also gave us tons of ideas we would have never thought of to make our day extra special! They recommended great vendors to work with. They were so organized and thought of everything I forgot along the way. (They helped keep me from turning into a bridezilla!)
How was it different being a client instead of a team member?
Being a client/bride/groom with Together & Company was actually very similar to being a team member. They welcome you in and make you feel like family. They have your back and support you. They truly care about your event and love what they do!
Favorite menu item?
Again, how can we pick just one?! My favorite is our Apple, Cheddar and Leek Stuffed Mushrooms and Kurt loved the Filet with Spicy Tomato Butter. A favorite of both of ours is those Bacon Wrapped Water Chestnuts. YUM!
Talk about your décor. What colors/themes did you use and why? Why winter?
Working in this industry, we are at weddings all the time. We have seen it all. We wanted our wedding to be unique and special and anything but cookie-cutter. A lot of people get married in the Summer and Fall, so Winter felt special to us. December is such a great time of the year.
Everyone is in the holiday spirit and feeling joyful, the perfect time for a wedding! I wanted the space to feel cozy and warm since it was winter. We used deep burgundy and soft ivory as our main colors with lots of rustic accents and greenery. We used tons of candles as table decor. It was the perfect setting for a winter wedding!
What was your favorite memory from the wedding?
We have to pick just one thing!? When we first arrived at the High Line Car House and walked into the venue, I immediately broke out in to tears. My vision had come to life. Every single detail (and I am pretty OCD lol) was perfect. Meghan, Carly, Kate, Caren, and the whole team had made my wedding dreams come true! That was a really special moment.
The best memory by far will always be our wedding ceremony. Our close friend, DJ Loy, was our officiant so it felt so personal! We spent a lot of time choosing readings that were meaningful to us and we decided to write our own vows and it did not disappoint! There wasn't a dry eye in the house! The rest of night we got so many compliments about how touching our wedding ceremony and vows were. All of family and friends told us that they could really feel our love and it was one of best wedding ceremonies they had seen! It meant a lot to both of us.
What made the experience special?
Everything about this experience was special. Getting married in a venue that felt like home to us. Working with event planners and vendors that felt like family. Trusting the Together & Company process 100% and knowing that this day was going to be perfect no matter what came up, that our guests would be treated with the best customer service and that they would be served the best food in town!
All of our friends and team members who worked at our wedding and made it feel so special. We wouldn't change a single thing!
Photography by Chroma Photography