By: Angela Rulli, Senior Sales & Event Partner
We love small events that leave a big impact on our guests. Get inspired with Angela Rulli as she shares three of her favorite small and intimate events.
Coastal Dining at the High Line
Venue: High Line Car House
Guest Count: 30
My favorite events are with clients that trust and understand our expertise at Together & Company. When given our client's trust, we use our creativity to elevate their vision and bring to life a next-level event. This event presented an opportunity to use our imagination and bring coastal inspiration to the food, décor, and the space at the High Line.
With a Seasonal Coast menu as the theme, we put a twist on a Calamari with Clam-amari – fried calamari and mixed clams with deep fried peppers and a spicy red pepper creole sauce as an accompaniment. We served the Calamari Bar alongside a classic Oyster Bar with East Coast Oysters and Mini Lobster Rolls to start off the evening.
We created customized décor that included hand knotted ties around the silverware, a nautical compass in wood as the centerpiece, and hand stitched flags hanging jauntily in the space.  This event was originally supposed to take place outside but was crashed by a rainstorm only two hours prior to the event.  Thankfully, our team was able to go with the flow and move the event inside the High Line.
On The Menu: 
Raw Oyster Bar
Mini Lobster Rolls
Calamari Station
Peppercorn Crusted Swordfish
with parsley and garlic butter
Skirt Steak marinated in
Sam Adam's Seasonal Ale
Individual Boston Cream Pies
Fire & Ice Alfresco
Venue: Private Backyard 
Guest Count: 20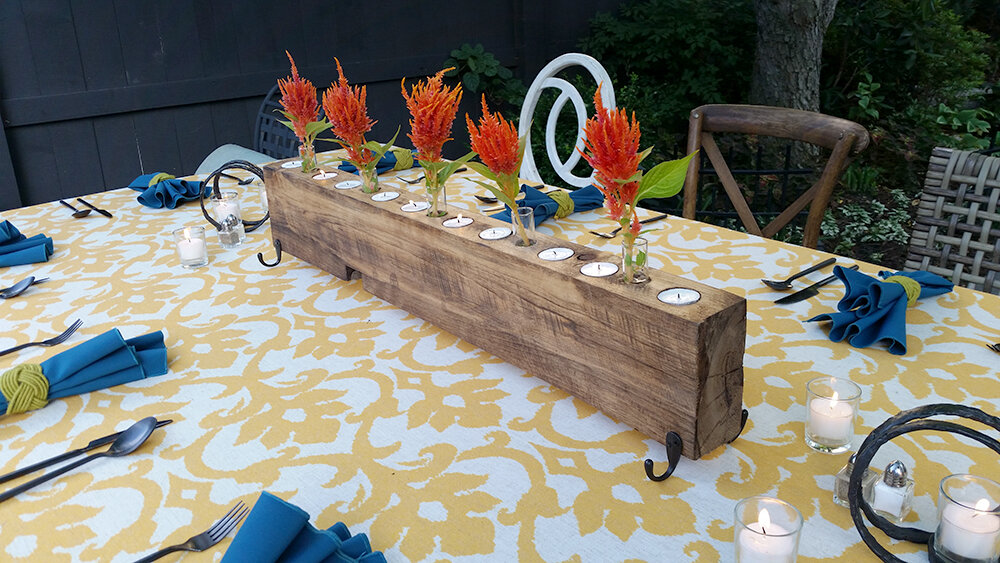 German Village Haus Tours always bring a new twist on our menus.  Beautiful old homes and gorgeous patios set the stage for a magical evening where all menus are themed in accordance with the event. 
This event was called "Fire & Ice".  With that in mind, we created a specialty drink with vodka, fresh jalapeño, simple syrup, and cucumber. Served with a sweet & spicy rimmed glass and a fresh cucumber garnish, these cocktails were a highlight for our guests.
The soup course included a gazpacho consommé that was served clear from a tea pot and poured over summer tomatoes. Hot ice cream was a finishing touch by our Chef on site.
In addition to the food, I loved the beautifully contrived mismatched chairs, linens, and perfect patio lighting in the trees amongst the sculptures and artwork.
On The Menu:
Scallop Ceviche
with Jalapeño and Finger Lime Caviar
Spicy Tuna Roll
Crispy Tempura Sweet Potato Roll
Gazpacho Consommé
Miso Glazed Sea Bass and Green Tea Smoked Duck
with Szechuan Peppercorn Glaze
Hot Ice Cream
Holiday Party at Home
Venue: Private Home 
Guest Count: 80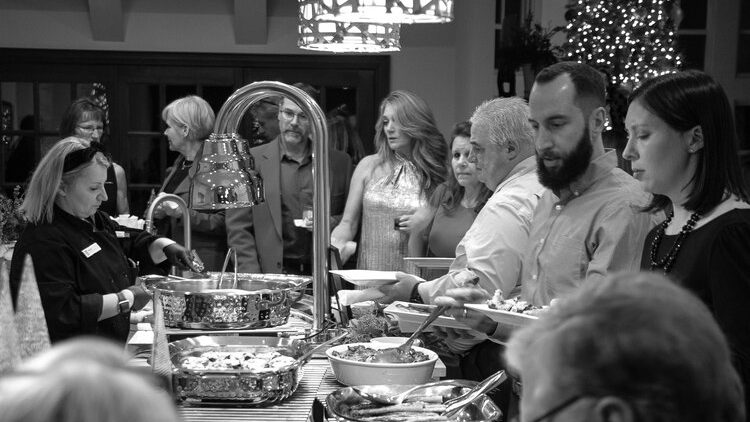 Overall, I have to say that small holiday parties are my favorite events of the year.  It always feels like reuniting with family. We have so many returning clients that we may not have heard from throughout the year, but then call us up later in the year to host parties with themes like "Hollidazzle".
They know that when they have family together they want us there to take care of them with delicious seasonal items and great service.  Clients often request the same service staff as the previous year by name. The entire event really feels like we're coming together with family and friends.
One of our more popular holiday appetizers is our Sparkling Brie Cranberry Bites. They have sugared cranberries and are included with many of our events due to their popularity. Holiday events also keep our bake shop busy with a Holiday Dessert Platter that comes with gorgeously custom painted cookies. 
On The Menu: 
Sparkling Brie Cranberry Bite
Seared Tuna Crostini
Ohio Glazed Ham Platter
Coconut Chicken Bite
with Sweet Chili Sauce
Smoked Salmon Cups
Fig Jam and Manchego Toast
Mini Crab Cakes
Apple, Cheddar,
and Leek Stuffed Mushrooms
Bite Size Holiday Platter
Mini Cupcakes from
Kittie's Cakes