The Together & Company team is full of passionate people who create memorable moments for our guests. We form strong friendships based on our shared passion, which allow us to enjoy each and every moment on the job.
We're featuring those passionate people on the blog to share their stories and why they are an integral part of Team TC.
Our first featured employee is Peggy!

If you've ever attended a Together & Company event, there's a good chance you saw Peggy smiling and dancing while delivering your appetizers. Her energy is contagious and she never fails to make guests laugh. We couldn't imagine our event staff without her! Check out our interview with Peggy:
Q: When did you start working at T&C?
A: I started working here as a server in 2012 and my first event was a wedding at Station 67. It's actually a pretty funny story! I desperately needed money for tires, so I thought a catering job would help me get the money I needed quickly. Turns out, I loved it so much that I'm still here 8 years later.
Q: What do you love about being a server?
A: The guests! I love to interact with them during their most important life moments. It's so much fun to serve food while listening to great music, plus there are plenty of opportunities to dance (my favorite activity). As a lead server, I'm often the first person clients turn to when they have questions or concerns during the event. I love having the opportunity to bring cheer and positivity to everyone in the room. I think it's really important to build relationships with the people I'm serving, and I've even had clients who invite me to other events because of the relationship we've formed.
Q: What makes the TC team special?
A: It really is like working with family. There's no better feeling than showing up to an event with a good crew – it gives you total confidence that the event will run smoothly. I also love how everyone on Team TC has different personalities and characteristics. When we work together we bring out the best in each other, even if that means capturing each other's embarrassing dance moves. See below for video evidence: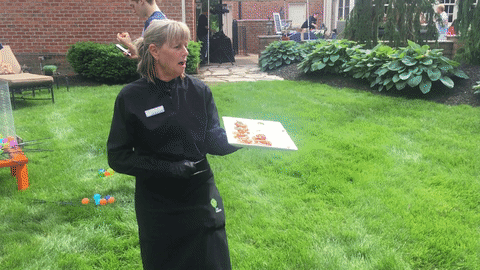 Q: What is your favorite event?
A: I work so many events it's too hard to pick just one! Hmm… I really love weddings. I think they are so magical. During a wedding, there is always a point of transformation from pre-ceremony nerves to pure joy at the reception and it's always so fun to watch. It's also a pleasure to serve at an event with a positive atmosphere where everyone is celebrating.
Another event I love working is Keyholder, put on by the Women's Fund of Central Ohio. This event brings together women from all over Ohio and features incredible speakers. One of my favorite speakers was Billie Jean King, who spoke a couple years ago. She was so inspiring, and it was an honor to hear her speak about her life and the fight for gender equity. In general, I like to serve at any event that is positive and uplifting.
Q: What is your spirit animal?
A: I've never thought about it! I'm extremely sociable and energetic so maybe something along those lines? I'm also a bit loud… let's just say Angela Petro knows when I'm in the building. A client once told me I reminded them of the dog from the movie Up. I've never seen the movie though so you can be the judge… 
Q: Do you have any hobbies or interests outside of work?
A: Have I mentioned dancing? Besides that, I love spending time with my 10-month old granddaughter, Addie, and my grand-dog, Cooper. I also like to plant flowers on my patio in the summertime.
Q: What is your favorite item on the menu?
A: I love our passed appetizers: raspberry brie bites, Caesar salad bites, and margarita shrimp are some of my favorites. I really love everything on the menu, which makes it easy to gush about our food to guests.