By: Kaitlyn Annandono, Marketing Intern
Hey there! My name is Kaitlyn, and I'm the Intern for the coolest team at Together & Company – Marketing! (Okay, all the teams at TC are pretty cool, but I'm biased.)
One of the best parts of my job – aside from making dog videos – is creating content for all of our social media accounts. One of the perks of the job is that I get to attend some pretty cool events to take photos. I was thrilled when our Graphic Designer Angela (my social media partner in crime) invited me to help out at Keyholder.
Keyholder is an annual fundraiser for The Women's Fund of Central Ohio to celebrate the year's accomplishments, raise awareness of issues concerning gender equity, and connect people in the Columbus community who share a passion for those issues. This is Together & Company's 8th year catering the after party, and it was so fun to get a behind-the-scenes look at the event.
As the doors opened and guests began to fill the historic Ohio Theatre, there was a feeling of excitement and energy. People from all over central Ohio had come together for this shared experience, and one central message: "You Hold The Key." This theme has really resonated with me for the past few weeks.
You're probably wondering… what key? And how do I hold it? 
The Women's Fund puts it best:
"Whether that means you show up when something moves you, listen and make space for those who don't have a voice, speak up at the dinner table, or take great care of yourself – you hold the key to making an impact." 
It was inspiring to hear this message from the women on the stage: from celebrity activists, to local change makers, and even our very own CEO Angela Petro. These empowered and intelligent ladies work to make change right here in the Columbus Community, they influence those around them to do the same, and they are creating a real impact for women and girls in Central Ohio.
We all are capable of making an impact – no matter how big or small. As an intern, even I hold the key to making a difference. I'm proud to work for a company that supports women, is committed to change for gender equity and especially lucky to learn from Angela's example.
Here's a quick rundown of the inspiring speakers: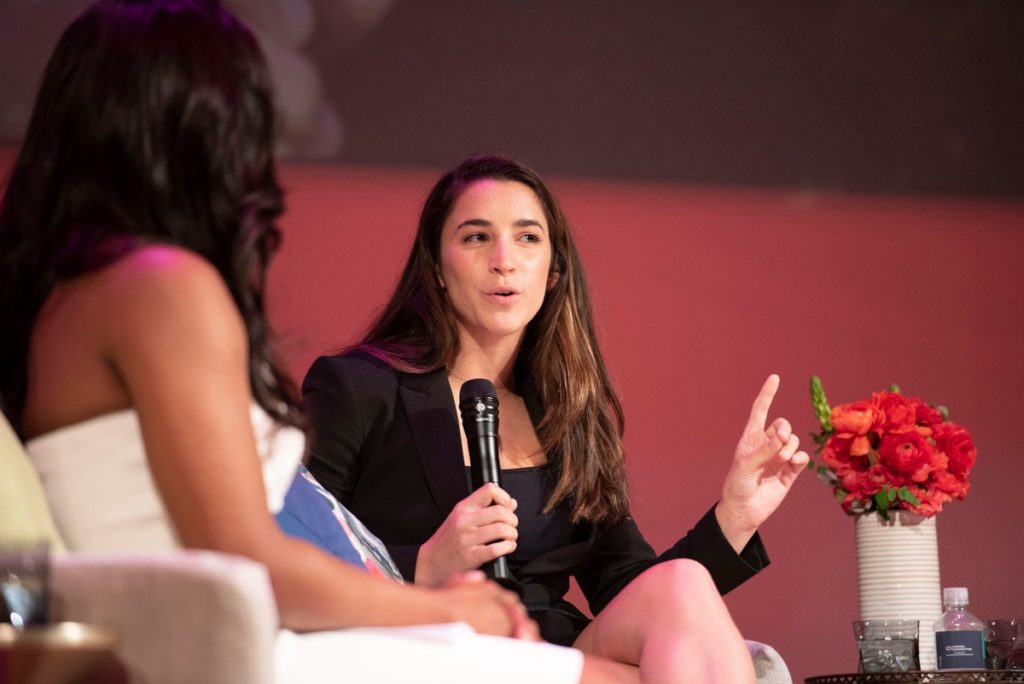 Aly Raisman
As an Olympic gold medal gymnast, survivor, and activist, Aly promotes positive body image and advocates for systemic changes within the sport of gymnastics.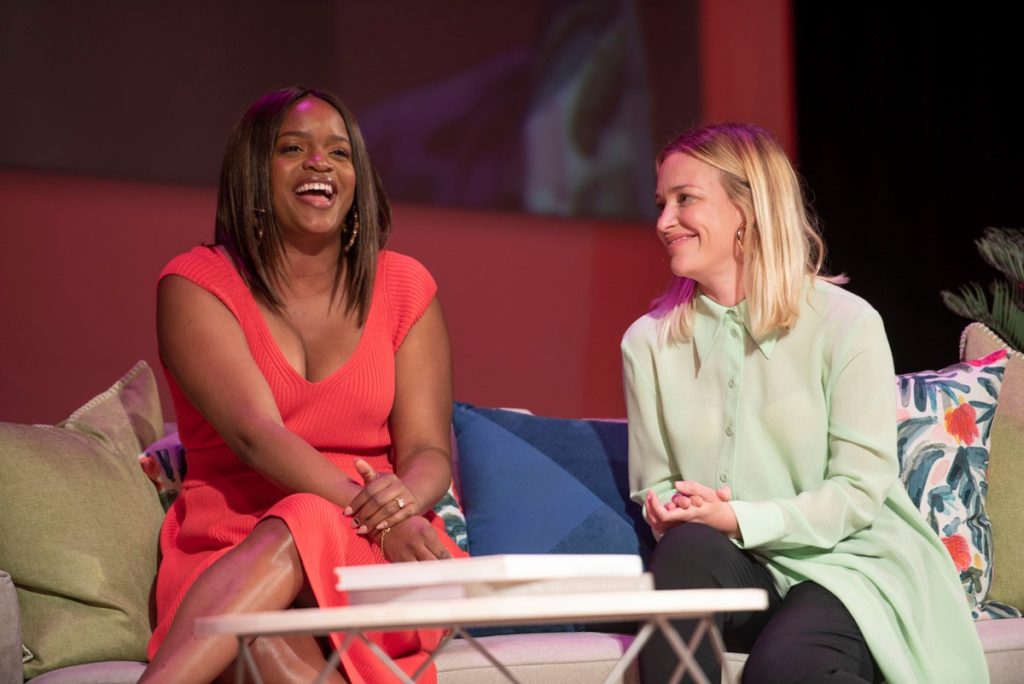 Brittany Packnett (left)
Cited by President Barack Obama as a leader whose "voice is going to be making a difference for years to come," Brittany is an unapologetic educator, organizer, writer, and speaker.
Piper Perabo (right)
Outside of her work on screen and stage, Piper is an activist, advocating for and uplifting the stories of refugees, political oppression around the globe, LGBT rights, and women's political leadership.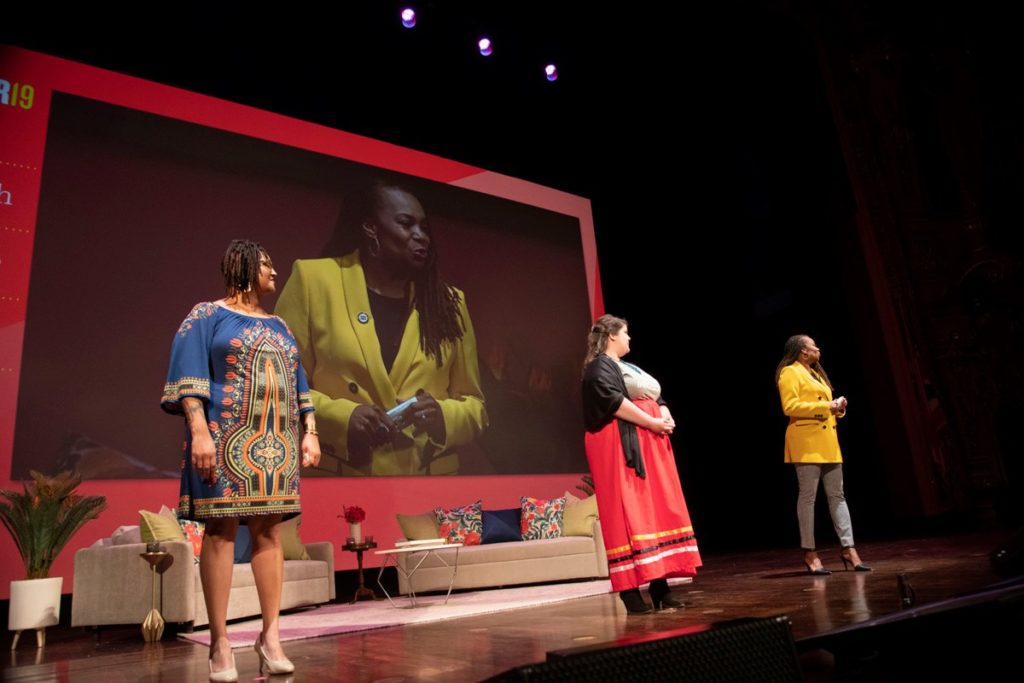 Other speakers included local activists Erin Upchurch, Madison Eagle, and Stephanie Hightower.
Surrounding the program was a beautiful, themed production. The stage of the theatre was decorated with delicate key accents, a hanging light display behind the bar, and even a signature drink dubbed the "Lock & Key."
The food was a whole other story.
Check out the full menu below for the amazing spread from Together & Company!
Passed Hors D'oevre
DEVILED EGG / with bacon and horseradish
BEET PICKLED DEVILED EGGS / garnished with chives
SMOKED CHICKEN CROSTINI / housemade mango chutney & scallion
TWICE-BAKED FINGERLING / topped with caramelized onions
VEGETARIAN SHEPARD'S PIE CROQUETTE
Upscale Hors D'oeuvre Display
5 ONION SOUP SHOOTER
DRUNKEN SHRIMP AND SLAW
MIMOSA COCKTAIL SALAD / blood oranges, goat cheese, candied almond, champagne vinaigrette
BLOODY MARY COCKTAIL SALAD / bacon, celery, olives, pepperchini, sundried tomatoes, lemon-tomato vinaigrette
ANTIPASTO SKEWER / prosciutto & kalamata olive skewered
with soppressata, roasted mushrooms, artichoke hearts, & roasted red pepper
BEET CROSTINI / mini diced marinated beets, blue cheese spread, toasted walnut, arugula
Dessert Display
CHEESECAKE BITES / cheesecake squares glazed with raspberry jam & garnished with a fresh blueberry
FLOURLESS CHOCOLATE CAKE BITES DIPPED IN CHOCOLATE
RASPBERRY ALMOND BAR
OPERA CAKE / almond sponge cake layers soaked in coffee syrup,
layered with ganache and coffee butter cream, and covered in chocolate glaze
KEY LIME MINI TARTLET
Signature Cocktail
THE LOCK & KEY / pear rosemary mule
Presentation photography: Shellee Fisher Photography & Design
Decor & food photography: in house photographer