By: Michelle Mercer, Event Partner
My favorite holiday tradition is the wine night I plan with my friends every year.
I like the atmosphere to be warm and cozy so I encourage casual dress. I set up tons of candles, blast Mariah Carey and other cheesy tunes, and when everyone is comfortable we start our annual gift exchange. (TIP: Try tossing a theme into the gift exchange – everything becomes a little more thoughtful. My favorite themes have been accessories, for-the-kitchen and especially home-made gifts!)
This year, I was thrilled to plan Together & Company's annual wine tasting, selecting a list of 10 amazing wines and pairing them with hors d'oeuvres our guests were sure to love. (Especially that Brussels Sprouts Chicken Eggroll paired with a glass of Pinot Noir – so yummy!)
Here are a few suggestions to help you plan your own winter wine night…
Just pick your go-to wine, choose complimentary seasonal treats,
& cozy up with people who make you happier than a Hallmark movie.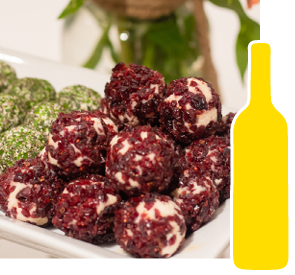 Riesling
2018 A to Z 'Oregon' Riesling pairs with rich and creamy signature Cheese Truffles.
Like calling a close friend after a tough day, this is a total mood changer.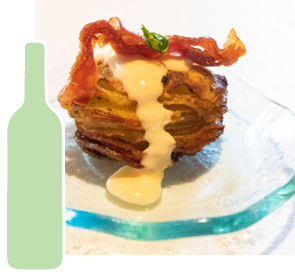 Chardonnay
2017 Hess Collection 'Napa Valley' Chardonnay pairs with delectable and savory Potato Gratin Stacks.
Like cuddling up with your furry, faithful friend, this tastes like pure comfort.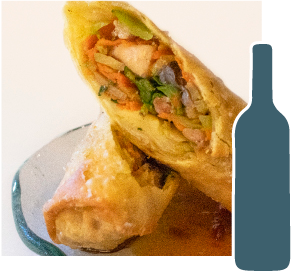 Pinot Noir
2017 Evolution 'Willamette Valley' Pinot Noir pairs with Brussels Sprouts Chicken Eggrolls.
Like enjoying a new book next to a warm, cozy fire, this is both familiar and unique.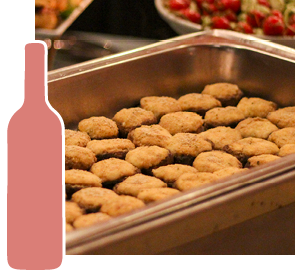 Rosé
Sparkling Pierre Sparr Cremant d'Alsace Rosé pairs with a decadent plate of our Four-Cheese Stuffed Mushrooms.
Like coming home after a busy day full of shopping and errands, this combo invites you to relax.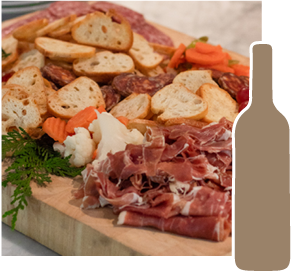 Cabernet
2017 Martin Ray 'Napa Valley' Cabernet pairs with the smoked and cured meats of a vibrant and assorted Charcuterie platter.
Traditional & crowd pleasing like a classic black dress and a set of Chanel pearls.
EXPERT TIP: For your Cabernet loving friends, include strong flavored cheeses like aged cheddar.
Need help planning your Holiday party?