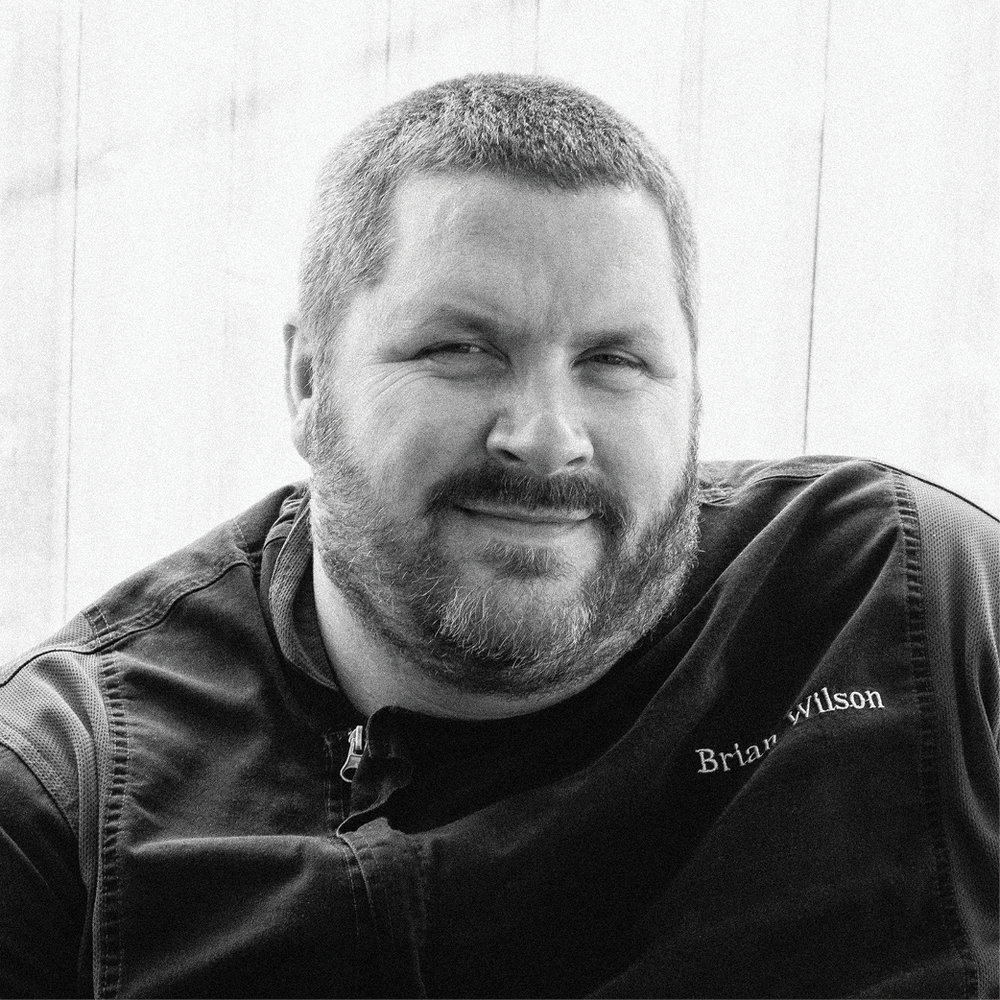 By Innovation Chef Brian Wilson
I started by bussing tables for gas money.
One day, a pantry cook didn't come to work and they needed someone to fill in. I started like many cooks do – making salads – and I never looked back. I looked up to all the creative people in the kitchen and I loved learning about cooking.
This field is constantly challenging me to be better. It's an incredible creative outlet and it's infinite: we'll never know everything about cooking. There are always new techniques, new food being used in different ways. You'd think every dish has been invented, but new things come out every day. And as technology makes its way into the kitchen, there will be even more fascinating creations… you can see it already.
That's why innovating is so important and fascinating. It's an honor to help create new things, see how people enjoy them, polish new recipes. I haven't met anyone with a culinary career path that isn't a creative person. This is why we do it. We like the adrenaline rush, but love innovating.
As the Chef of Innovation, it's my job to inspire and collaborate with my team. I look at trends popping up in trade publications. I look at what local farmers are growing. I research the best chefs in the nation to understand how they are using ingredients. I will look at 15 recipes to understand what everyone does the same, and what some are doing differently.
I ask…
What can we do differently?
How do we make this special?  
There's a lot of talent, knowledge and creativity on our culinary team and we practice true collaboration: Someone has an idea, someone else makes it better, and we go back and forth until we have the best product.
For the 2019 holiday menu, we were inspired by flavors people gravitate to during the holiday season, but it's also about comfort. Comfort food is different for everyone and is usually nostalgic. We took those nostalgic, holiday dishes and put our creative spin on them.
For Example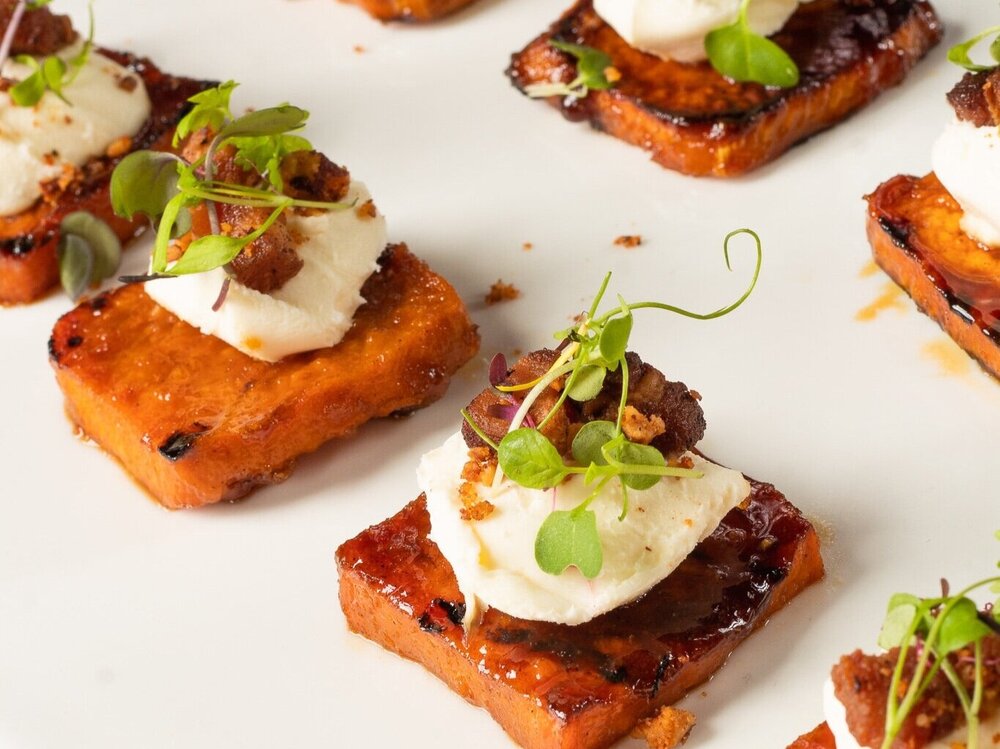 Sweet Potato Bite
We always offer crostini, so the Sweet Potato Bite is a new offering that looks familiar, but I love using the sweet potato as the carrier. It's really appealing.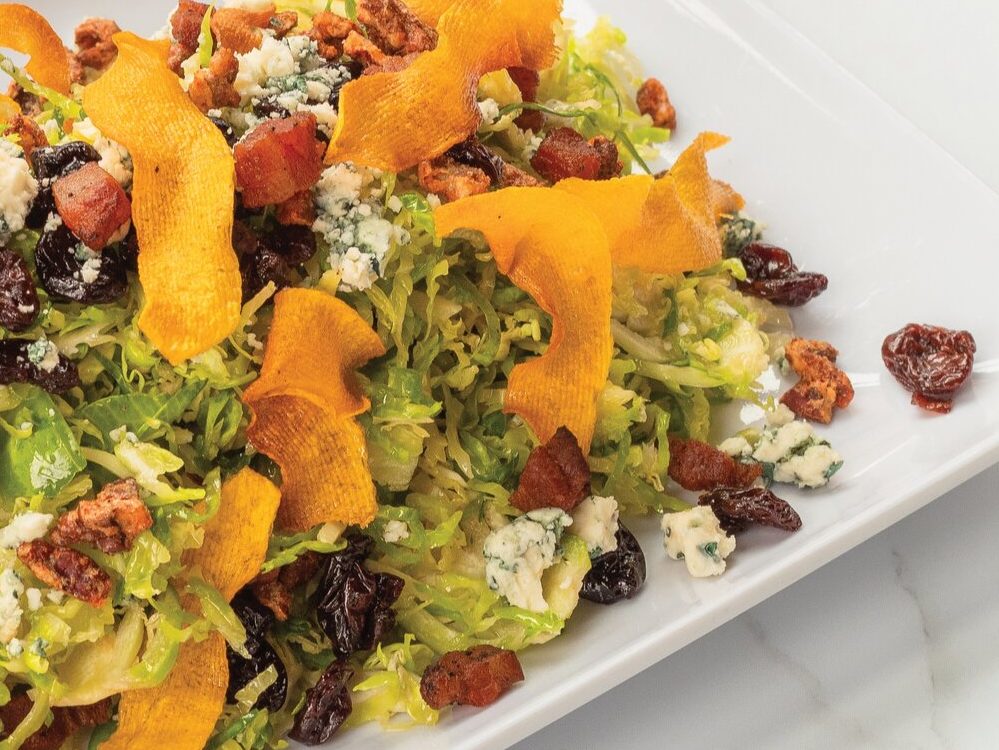 Shaved Brussels Sprout
People love Brussels sprouts. Using shaved Brussels as a salad base is something our guests will really connect with in the fall and winter. And I love the maple bourbon vinaigrette.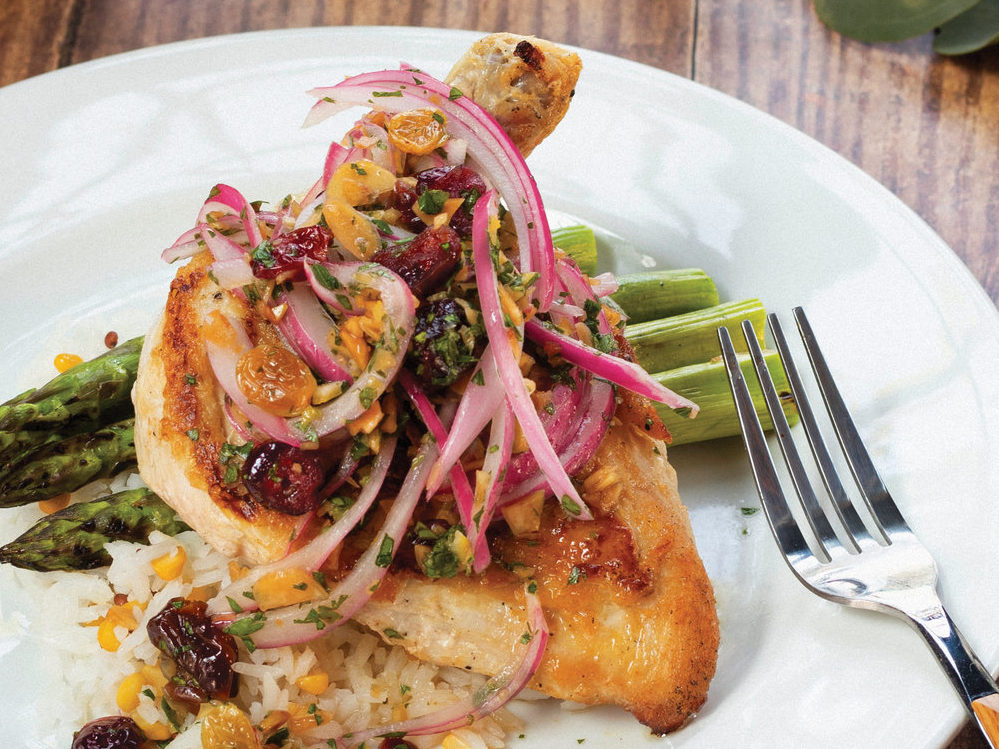 Agrodolce Chicken
My favorite entrée is the Agrodolce Chicken. It's beautiful and the acid from the agrodolce and sweetness from the fruit play so well with the fatty chicken skin. It's just yum.
Agrodolce [ˌaɡroˈdoltʃe] is a traditional sweet and sour sauce in Italian cuisine. Its name comes from "agro" (sour) and "dolce" (sweet). Agrodolce is made by reducing sour and sweet elements, traditionally vinegar and sugar. Sometimes, additional flavorings are added, such as wine, fruit.
It's exciting to innovate. 
To blaze our own trail. Carve a niche. And if a guest chooses our menu over another, because of our investment in creativity, quality, seasonal items…that's amazing.
I'm excited about this menu & can't wait to see the feedback we get from our guests.